nLab


structure formation
Contents
Idea
In the context of cosmology, structure formation refers to the process by which cosmological structures such as galaxy clusters form under gravitational collapse of a primordial gas.
Various computer simulations (Millenium I, Millenium II, Millenium XXL, Illustris) test theory against observations, such as those by the Planck Collaboration, see Springel 13 for survey.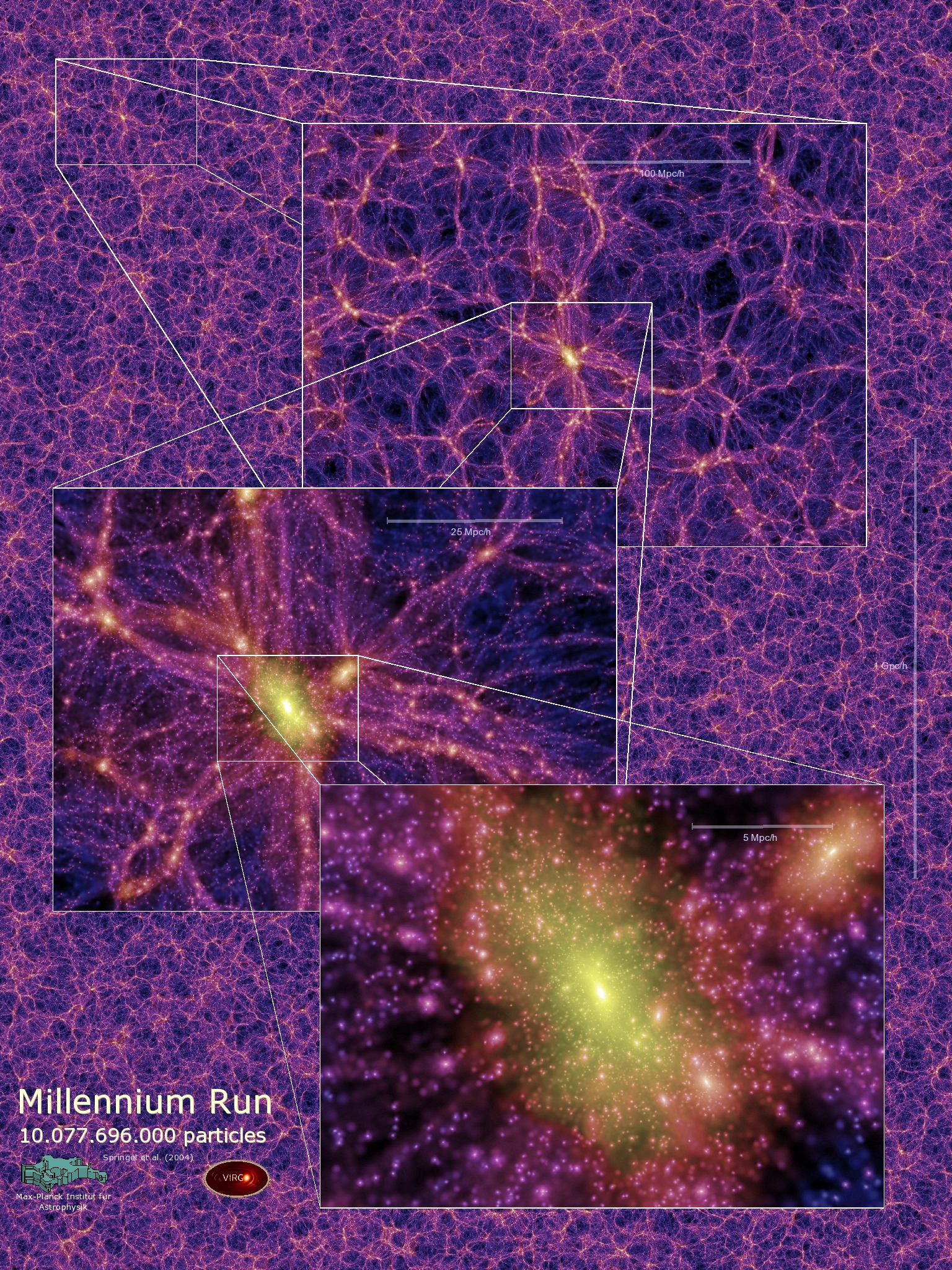 graphics from The Millenium Simulation Project
From Vogelsberger et al. 14:
The simulation reproduces reasonably well the cosmic star formation rate density, the galaxy luminosity function, and baryon conversion efficiency at . It also qualitatively captures the impact of galaxy environment on the red fractions of galaxies. The internal velocity structure of selected well-resolved disk galaxies obeys the stellar and baryonic Tully-Fisher relation together with flat circular velocity curves. In the well-resolved regime the simulation reproduces the observed mix of early-type and late-type galaxies.
See also Illustris Project Website: What are we learning? and Preliminary Results.
For structure on galactic scales (such as galaxy rotation curves and Tully-Fisher relation) there is see FIRE, see Hopkins et al 17/
References
Review includes
Galaxy formation:
See also
Computer simulation
There are various computer simulations for cosmic structure formation, listed below. Review includes the following:
Millenium Project
Millenium I
Millenium II
Millenium XXL
Illustris Project
FIRE
galaxy formation
galactic rotation curves qualitatively reproduced in Hopkins 17, Figure 4, Figure 5
baryonic Tully-Fisher relation qualitatively reproduced in El-Badry 18, Figure 4
Other
Last revised on October 28, 2019 at 08:37:49. See the history of this page for a list of all contributions to it.