Context
Category theory
Notions of subcategory
Contents
Idea
By a bireflective subcategory one might mean:
A subcategory which is both reflective and coreflective — i.e. a fully faithful functor possessing both left and right adjoints: (reflective localization and coreflective localization).

Such subcategories are called essential localizations by Kelly & Lawvere (1989), following the terminology of essential geometric morphisms from topos theory, see also at level of a topos.

The adjoint pair is then an adjoint modality; see there for more.

More specifically, one may in addition ask that , hence that the subcategory inclusion has an ambidextrous adjoint .

Such subcategories are called quintessential localizations by Johnstone (1996).

The corresponding (co-)monad is then a Frobenius monad (see at classical modality).

Finally, one may moreover ask that the points-to-pieces transform of a quintessential localization be the identity morphisms.

This strong form of the notion is the case actually called bireflective subcategories by Freyd et al. (1999).
Definition
(
FOPTST99, Thm. 13
)
Concretely, from a split idempotent on we recover the Frobenius monad as follows:
RFL21, Lem. 7.7
)
Proof
By naturality of the transformation
and using (1) we get the first statement:
The second follows analogously.
(
RFL21, Prop. 7.8
)
Modal type theory
A modal type theory for bireflection modalities has been proposed in Riley, Finster & Licata (2021), Riley (2022).
We show the inference rules which these authors propose to add to plain intuitionistic type theory for encoding the presence of a bireflection classical modality on the type system, and we show corresponding categorical semantics via commuting diagrams in an interpreting locally cartesian closed category (a more syntactic semantics is indicated in RFL21, Sec. 7, esp. Fig. 6).
The list of inference rules and their categorical semantics (first the axioms then derived rules):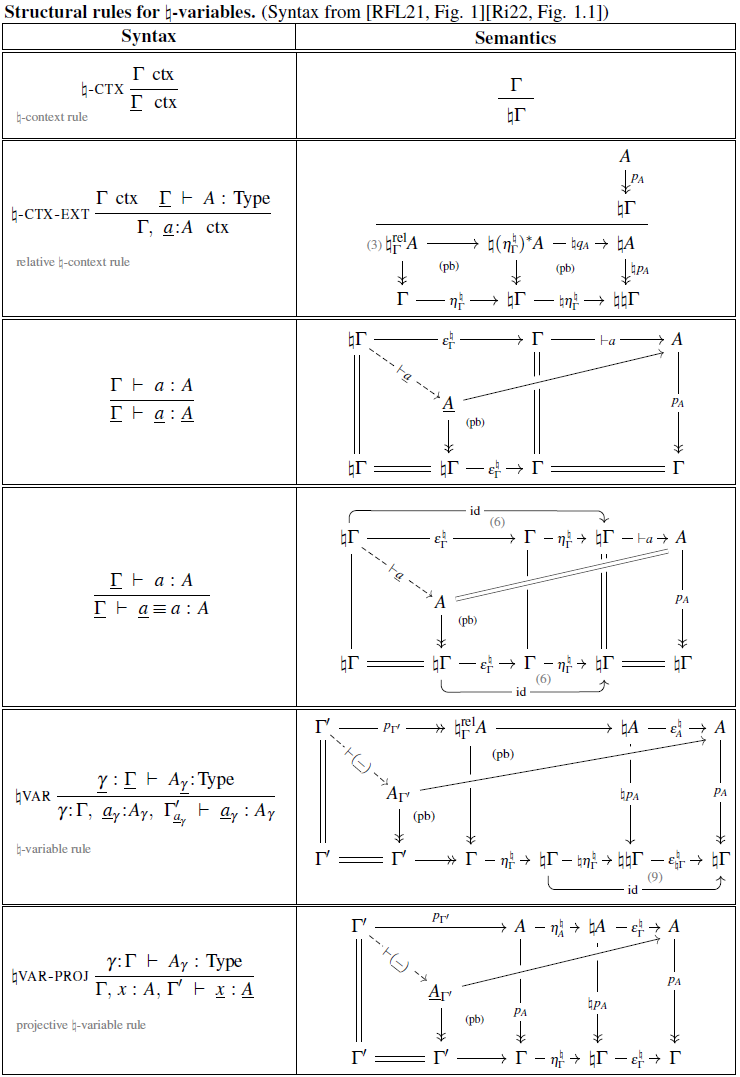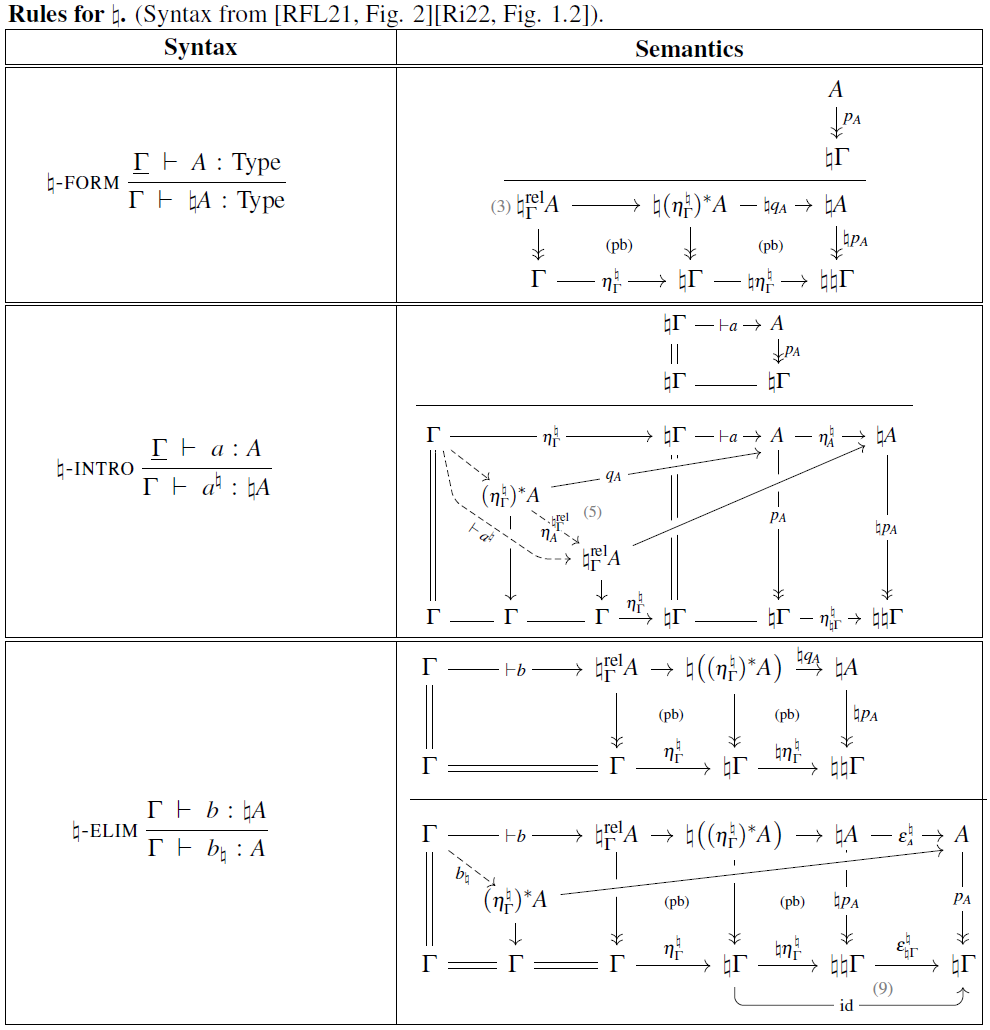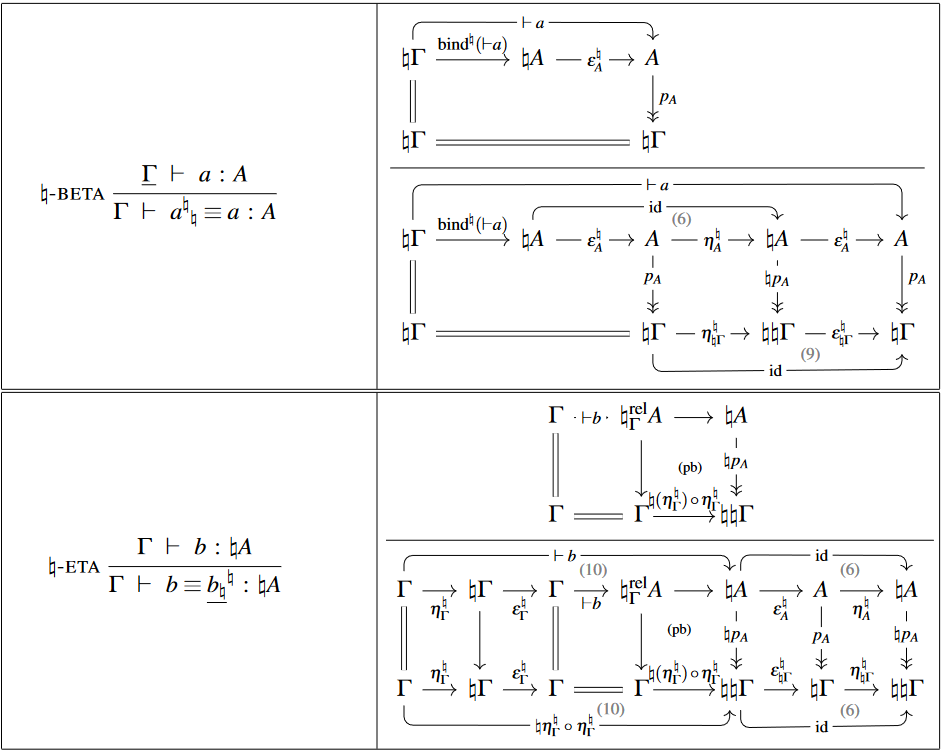 Using these ingredients, one finds that the function is interpreted simply as postcomposition with the -naturality square:
With this, one finds the following rule for respecting dependent pair types: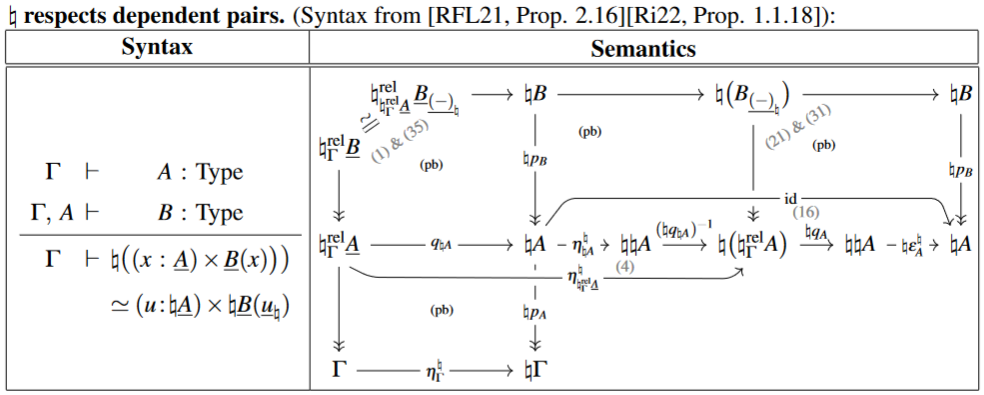 Using this one finds that every type is the dependent sum type of its fiber linear types (NB: we show 1-categorical semantics, interpreting identification types as diagonal morphisms):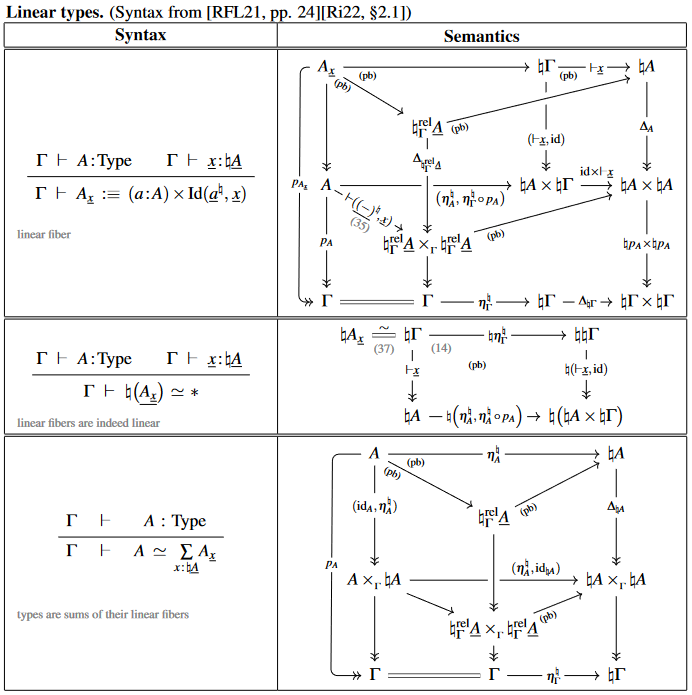 Examples
References
On subcategory inclusion which have both a left and a right adjoint (essential localizations):
G. M. Kelly, F. W. Lawvere, On the complete lattice of essential localizations, Bull. Soc. Math. Belg. Sér. A 41 (1989) 289–319 [pdf]
On subcategory inclusions with ambidextrous adjoints (quintessential localizations):
Peter Johnstone, Remarks on Quintessential and Persistent Localizations, TAC 2 8 (1996) 90-99. [pdf, 2-08]
On subcategory inclusions with ambidextrous adjoints whose points-to-pieces transform is the identity (actual bireflective subcategories):
Discussion of a modal type theory for bireflective modalities, in a context of linear homotopy type theory: