nLab


triangle identities
Context
Category theory
Concepts
Universal constructions
Theorems
Extensions
Applications
2-Category theory
Definitions
Transfors between 2-categories
Morphisms in 2-categories
Structures in 2-categories
Limits in 2-categories
Structures on 2-categories
Contents
Idea
The triangle identities or zigzag identities are identities satisfied by the unit and counit of an adjunction.
Statement
Given (categories, or otherwise objects of a -category) with functors (or otherwise morphisms) and and natural isomorphisms (or otherwise -morphisms) and , the triangle identities are the following:
As equations
and
are identities. (Here, the composition of the - with the -morphisms is sometimes called whiskering.)
As diagrams
i.e.
and i.e.
As string diagrams
In string diagrams, the identities appear as the action of "pulling zigzags straight" (hence the name):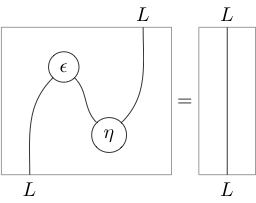 ,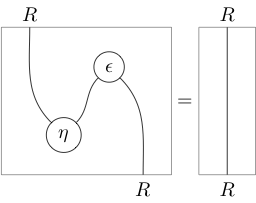 .
With labels left implicit, this notation becomes very economical: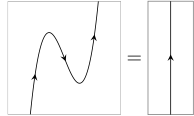 ,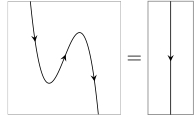 .
References
Last revised on May 17, 2018 at 06:38:54. See the history of this page for a list of all contributions to it.