This entry is one chapter of geometry of physics.

next chapters: smooth sets, supergeometry
---
Context
Category theory
Topos Theory
Background
Toposes
Internal Logic
Topos morphisms
Cohomology and homotopy
In higher category theory
Theorems
Category theory and topos theory concern the general abstract structure underlying algebra, geometry and logic. They are ubiquituous in and indispensible for organizing conceptual mathematical frameworks.
We give here an introduction to the basic concepts and results, aimed at providing background for the synthetic higher supergeometry of relevance in formulations of fundamental physics, such as used in the chapters on perturbative quantum field theory and on fundamental super p-branes. For quick informal survey see Introduction to Higher Supergeometry.
This makes use of the following curious dictionary between category theory/topos theory and the geometry of generalized spaces, which we will explain in detail (following Grothendieck 65, Lawvere 86, p. 17, Lawvere 91):
The perspective is that of functorial geometry (Grothendieck 65). (For more exposition of this point see also at motivation for sheaves, cohomology and higher stacks.) This dictionary implies a wealth of useful tools for handling and reasoning about geometry:
We discuss below that sheaf toposes, regarded as categories of generalized spaces via the above disctionary, are "convenient contexts" for geometry (Prop. below), in the technical sense that they provide just the right kind of generalization that makes all desireable constructions on spaces actually exist:
Notably mapping spaces play a pivotal role in physics, in the guise of spaces of field histories, but fall outside the applicability of traditional formulations of geometry based on just manifolds. Topos theory provides their existence (Prop. below) and the relevant infrastructure, for example for the construction of transgression of differential forms to mapping spaces of smooth sets, that is the basis for sigma-model-field theories. This is discussed in the following chapters on smooth sets and on supergeometry.
In conclusion, one motivation for category theory and topos theory is a posteriori: As a matter of experience, there is just no other toolbox that allows to deeply understand and handle the geometry of physics. Similar comments apply to a wealth of other topics of mathematics.
We offer also an a priori motivation:
Category theory is the theory of duality.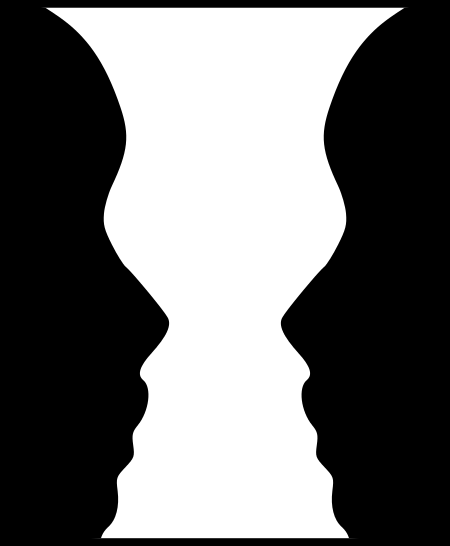 Duality is of course an ancient notion in philosophy. At least as a term, it makes a curious re-appearance in the conjectural theory of fundamental physics formerly known as string theory, as duality in string theory. In both cases, the literature left some room in delineating what precisely is meant. But the philosophically inclined mathematician could notice (see Lambek 82) that an excellent candidate to make precise the idea of duality is the mathematical concept of adjunction, from category theory. This is particularly pronounced for adjoint triples (Remark below) and their induced adjoint modalities (Lawvere 91, see Def. below), which exhibit a given "mode of being" of any object as intermediate between two dual opposite extremes (Prop. below):
For example, cohesive geometric structure on generalized spaces is captured, this way, as modality in between the discrete and the codiscrete (Example , and Def. below).
Historically, category theory was introduced in order to make precise the concept of natural transformation: The concept of functors was introduced just so as to support that of natural transformations, and the concept of categories only served that of functors (see Freyd 1964, p. 1).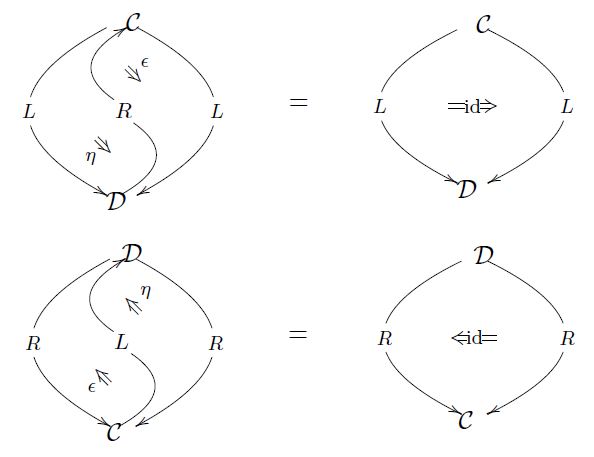 But natural transformations are, in turn, exactly the basis for the concept of adjoint functors (Def. below), equivalently adjunctions between categories (Prop. below), shown on the left. All universal constructions, the heart of category theory, are special cases of adjoint functors – hence of dualities, if we follow Lambek 82: This includes the concepts of limits and colimits (Def. below), ends and coends (Def. below) Kan extensions (Prop. below), and the behaviour of these constructions, such as for instance the free co-completion nature of the Yoneda embedding (Prop. below).
Therefore it makes sense to regard category theory as the theory of adjunctions,
hence the theory of duality:
The pivotal role of adjunctions in category theory (Lawvere 08) and in the foundations of mathematics (Lawvere 69, Lawvere 94 ) was particularly amplified by F. W. Lawvere1. Moreover, Lawvere saw the future of category theory (Lawvere 91) as concerned with adjunctions expressing systems of archetypical dualities that reveal foundations for geometry (Lawvere 07) and physics (Lawvere 97, see Def. and Def. below). He suggested (Lawvere 94) this as a precise formulation of core aspects of the theory of everything of early 19th century philosophy: Hegel's Science of Logic.
These days, of course, theories of everything, such as string theory, are understood less ambitiously than Hegel's ontological process, as mathematical formulations of fundamental theories of physics, that could conceptually unify the hodge-podge of currently available "standard models" of particle physics and of cosmology to a more coherent whole.
The idea of duality in string theory refers to different perspectives on physics that appear dual to each other while being equivalent. But one of the basic results of category theory (Prop. , below) is that equivalence is indeed a special case of adjunction. This allows to explore the possibility that there is more than a coincidence of terms.
Of course the usage of the term duality in string theory is too loose for one to expect to be able to refine each occurrence of the term in the literature to a mathematical adjunction. However, we will see mathematical formalizations of core aspects of key string-theoretic dualities, such as topological T-duality and the duality between M-theory and type IIA string theory, in terms of adjunctions. Indeed, at the heart of these dualities in string theory is the phenomenon of double dimensional reduction, which turns out to be formalized by one of the most fundamental adjunctions in (higher) category theory: base change along the point inclusion into a classifying space. All this is discussed in the chapter on fundamental super p-branes.
This suggests that there may be a deeper relation here between the superficially alien uses of the word "duality", that is worth exploring.
In this respect it is worth noticing that core structure of string/M-theory arises via universal constructions from the superpoint (as explained in the chapter on fundamental super p-branes), while the superpoint itself arises, in a sense made precise by category theory, "from nothing", by a system of twelve adjunctions (explained in the chapter on supergeometry).
Here we introduce the requisites for understanding these statements.
Contents
Basic notions of Category theory
We introduce here the basic notions of category theory, along with examples and motivation from geometry:
This constitutes what is sometimes called the language of categories. While we state and prove some basic facts here, notably the notorious Yoneda lemma (Prop. below), what makes category theory be a mathematical theory in the sense of a coherent collection of non-trivial theorems is all concerned with the topic of universal constructions, which may be formulated (only) in this language. This we turn to further below.
Categories and Functors
The notion of a category (Def. below) embodies the idea of structuralism applied to concepts in mathematics: it collects, on top of the set (or generally: class) of mathematical objects that belong to it, also all the structure-preserving maps between them, hence the homomorphisms in the case of Bourbaki-style mathematical structures.
The first achievement of the notion of a category is to abstract away from such manifestly concrete categories (Examples , below) to more indirectly defined mathematical objects whose "structure" is only defined, after the fact, by which maps, now just called morphisms, there are between them.
This structuralism-principle bootstraps itself to life by considering morphisms between categories themselves to be those "maps" that respect their structuralism, namely the connectivity and composition of the morphisms between their objects: These are the functors (Def. below).
For the purpose of geometry, a key class of examples of functors are the assignments of algebras of functions to spaces, this is Example below.
The archetypical example of a category is the category of sets:
More generally all kind of sets with structure, in the sense going back to Bourbaki, form categories, where the morphisms are the homomorphisms (whence the name "morphism"!). These are called concrete categories (we characterize them precisely in Example , further below):
This is the motivation for the terminology "categories", as the examples in Example are literally categories of mathematical structures. But not all categories are "concrete" in this way.
Some terminology:
As usual, there are some trivial examples, that are however usefully made explicit for the development of the theory:
There is a range of constructions that provide new categories from given ones:
The concept of faithful functor from Def. allows to make precise the idea of concrete category from Example :
Natural transformations and presheaves
Given a system of (homo-)morphisms ("transformations") in some category (Def. )
between objects that depend on some variable , hence that are values of functors of (Def. ), one says that this is natural, hence a natural transformation (Def. below) if it is compatible with (homo-)morphisms of the variable itself.
These natural transformations are the evident homomorphisms between functors
and hence there is a category of functors between any two categories (Example below).
A key class of such functor categories are those between an opposite category and the base category of sets, these are also called categories of presheaves (Example below). It makes good sense (Remark below) to think of these as categories of "generalized objects of ", a perspective which is made precise by the statement of the Yoneda lemma (Prop. below) and the resulting Yoneda embedding (Prop. below). This innocent-looking lemma is the heart that makes category theory tick.
As a direct corollary, we obtain the statement of the Yoneda embedding:
As a direct corollary we obtain the following alternative characterization of isomorphisms, to be compared with the definition of epimorphisms/monomorphisms in Def. :
Adjunctions
The concepts of categories, functors and natural transformations constiture the "language of categories". This language now allows to formulate the concept of adjoint functors (Def. ) and more generally that of adjunctions (Def. below. This is concept that category theory, as a theory, is all about.
Part of the data involved in an adjunction is its adjunction unit and adjunction counit (Def. below) and depending on their behaviour special cases of adjunctions are identified (Prop. below), which we discuss in detail in following sections:
We now discuss four equivalent definitions of adjoint functors:
Then we discuss some key properties:
We now consider a sequence of equivalent reformulations of the condition of adjointness.
The condition (10) on adjoint functors in Def. implies in particular that for every object the functor is a representable functor with representing object . The following Prop. observes that the existence of such representing objects for all is, in fact, already sufficient to imply that there is a right adjoint functor.
This equivalent perspective on adjoint functors makes manifest that adjoint functors are, if they exist, unique up to natural isomorphism, this is Prop. below.
We consider one more equivalent characterization of adjunctions:
The following equivalent formulation (Prop. ) of universal morphisms is often useful:
With this definition, the following is evident:
After these equivalent characterizations of adjoint functors, we now consider some of their main properties:
To complete this pattern, we will see below in Prop. that following are equivalent:
But the main preservation property of adjoint functors is that adjoints preserve (co-)limits. This we discuss as Prop. below, after introducing limits and colimits in Def. below.
Prop. says that adjoint functors are equivalenty "adjunctions in Cat", as defined there. This is a special case of a general more abstract concept of adjunction, that is useful:
The archetypical example of a strict 2-category is the category of categories:
With a concept of 2-category in hand, we may phrase Prop. more abstractly:
Hence via Example , Prop. says that an adjoint pair of functors is equivalente an adjunction in the general sense of Def. , realized in the very large strict 2-category Cat of categories.
This more abstract perspecive on adjunctions allow us now to understand "duality of dualities" as adjunction in a 2-category of adjunctions:
Example suggest to consider a slight variant of the concept of strict 2-categories which allows to make the duality between left adjoints and right adjoints explicit:
We will see an important example of a weak double functor in the construction of derived functors of Quillen functors, below in Prop. .
Equivalences
We have seen functors (Def. ) as the homomorphisms between categories (Def. ). But functors themselves are identified only up to natural isomorphism (Def. ), reflective the fact that they are the 1-morphisms in a 2-category of categories (Example ). This means that in identifying two categories, we should not just ask for isomorphisms between them, hence for a functor between them that has a strict inverse morphism, but just for an inverse up to natural isomorphism.
This is called an equivalence of categories (Def. below). A particularly well-behaved equivalence of categories is an equivalence exhibited by an adjoint pair of functors, called an adjoint equivalence of categories (Def. below). In fact every equivalence of categories may be improved to an adjoint equivalence (Prop. ).
There is also the following, seemingly weaker, notion:
If a functor participates in an equivalence of categories, that functor alone is usually already called an equivalence of categories. If there is any equivalence of categories between two categories, these categories are called equivalent.
Inside every adjunction sits its maximal adjoint equivalence:
Modalities
Generally, a full subcategory-inclusion (Def. ) may be thought of as a consistent proposition about objects in a category: The objects in the full subcategory are those that have the given property.
This basic situation becomes particularly interesting when the inclusion functor has a left adjoint or a right adjoint (Def. ), in which case one speaks of a reflective subcategory, or a coreflective subcategory, respectively (Def. below). The adjunction now implies that each object is reflected or coreflected into the subcategory, and equipped with a comparison morphism to or from its (co-)reflection (the adjunction (co-)unit, Def. ). This comparison morphism turns out to always be an idempotent (co-)projection, in a sense made precise by Prop. below.
This means that, while any object may not fully enjoy the property that defines the subcategory, one may ask for the "aspect" of it that does, which is what is (co-)projected out. Regarding objects only via these aspects of them hence means to regard them only locally (where they exhibit that aspect) or only in the mode of focus on this aspect. Therefore one also calls the (co-)reflection operation into the given subcategory a (co-)localization or (co-)modal operator, or modality, for short (Def. below).
One finds that (co-)modalities are a fully equivalent perspective on the (co-)reflective subcategories of their fully (co-)modal objects (Def. below), this is the statement of Prop. below.
Another alternative perspective on this situation is given by the concept of localization of categories (Def. below), which is about universally forcing a given collection of morphisms ("weak equivalences", Def. below) to become invertible. A reflective localization is equivalently a reflective subcategory-inclusion (Prop. below), and this exhibits the modal objects (Def. below) as equivalently forming the full subcategory of local objects (Def. below).
Conversely, every reflection onto full subcategories of -local objects (Def. below) satisfies the universal property of a localization at with respect to left adjoint functors (Prop. below).
In conclusion, we have the following three equivalent perspectives on modalities.
We now re-consider the concept of reflective subcategories from the point of view of modalities:
For proof see this prop..
In order to analyze (in Prop. below) the comparison morphism of opposite extreme aspects (27) induced by an adjoint modality (Def. ), we need the following technical Lemma:
But already Aufhebung of the bottom adjoint modality is a non-trivial and interesting condition. We consider this below in Prop. .
We now re-consider the concept of reflective subcategories from the point of view of localization of categories:
A class of examples is the following, which comes to its full nature (only) after passage to homotopy theory (Example below):