nLab

vacuum diagram
Context
Vacua
Algebraic Quantum Field Theory
Contents
Idea
A Feynman diagram without external edges is called a vacuum diagram.
For example the simplest vacuum diagram obtained from the electron-photon interaction in quantum electrodynamics is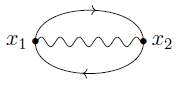 In the computation of scattering amplitudes in a stable vacuum the contribution of the vacuum diagrams to the Feynman perturbation series cancels out.
For details see at S-matrix this section
Last revised on May 17, 2019 at 20:09:00. See the history of this page for a list of all contributions to it.