Context
Linear algebra
homotopy theory, (∞,1)-category theory, homotopy type theory
flavors: stable, equivariant, rational, p-adic, proper, geometric, cohesive, directed…
models: topological, simplicial, localic, …
see also algebraic topology
Introductions
Definitions
Paths and cylinders
Homotopy groups
Basic facts
Theorems
Complex geometry
Contents
Definition
Properties
General properties
Proof
The positive-definiteness of is immediate from that of . The symmetry of follows from the symmetric sesquilinearity of :
That is invariant under follows from its sesquilinarity
and this immediately implies the corresponding invariance of and .
Analogously it follows that is skew symmetric:
and the relation between the two components:
as well as
Relation to Kähler spaces
As -modules
While a non-degenerate inner product on a finite-dimensional real vector space is equivalently a linear isomorphism to its dual vector space
the analogous statement for Hermitian complex inner products fails, since the corresponding maps
are now complex anti-linear and hence not morphisms in the category of complex vector spaces.
What one does get is a complex-linear isomorphism to the anti-dual space?.
Another way to regard this situation is to observe that complex anti-linear involutions on non-degenerate Hermitian spaces are equivalently -module structures on the direct sum , regarded in the topos of -sets, for the ring object given by the complex numbers equipped with their involution by complex conjugation: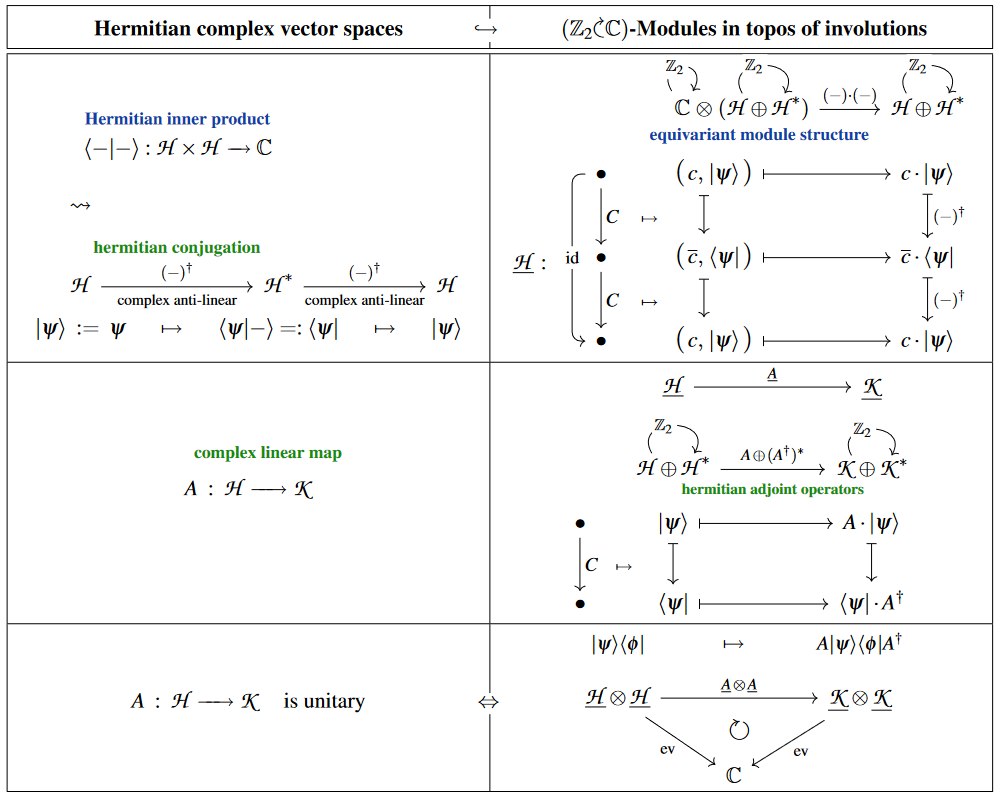 Notice that these -modules arising from (non-degenerate, finite-dimensional) Hermitian vector spaces this way happen to carry also a complex structure, hence a compatible module-structure by the actual complex numbers (i.e. equipped with the trivial involution), given by .
Using this, one may identify:
the space of linear operators on a Hermitian vector space as the equalizer of this imaginary rotation on the tensor square of the -module with the braiding and the identity,

among these that of hermitian operators as the further fixed locus of the involution action:

References
Among original articles:
See also:
and see the references at Hilbert space.