nLab

comonoid
Context
Monoid theory
Algebra
Algebraic theories
Algebras and modules
Higher algebras
Model category presentations
Geometry on formal duals of algebras
Theorems
Category theory
Concepts
Universal constructions
Theorems
Extensions
Applications
Contents
Definition
A comonoid (or comonoid object) in a monoidal category is a monoid object in the opposite category (which canonically becomes a monoidal category via the same tensor product operation as in ).
With the usual definition of monoids as having a unit, this means that a comonoid is equipped with a counit, which in string diagram-notation for is of this form:
One speaks of a unital comonoid (or unital comonoid object; internal to Vect also called an augmented coalgebra) if is in addition equipped with a morphism
which verifies the properties that the unit would verify if was a bimonoid, ie. in string diagrams: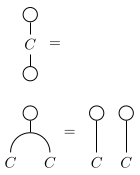 Examples
Obvious as Exp. may be, it plays a somewhat profound role in various contexts:
Last revised on August 25, 2023 at 16:17:34. See the history of this page for a list of all contributions to it.