nLab

icosahedron
Contents
Idea
(
image source
)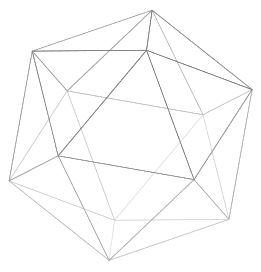 (
image source
)
The regular icosahedron is the unique regular convex polyhedron with 20 (triangular) faces. One of the Platonic solids.
Its symmetry group is called the icosahedral group.
References
Felix Klein, chater I.8 of Vorlesungen über das Ikosaeder und die Auflösung der Gleichungen vom fünften Grade, 1884, translated as Lectures on the Icosahedron and the Resolution of Equations of Degree Five by George Morrice 1888, online version

Wikipedia, Icosahedron
Last revised on October 9, 2018 at 12:41:30. See the history of this page for a list of all contributions to it.