nLab

simple Lie group
Context
-Lie theory
∞-Lie theory (higher geometry)
Background
Smooth structure
Higher groupoids
Lie theory
∞-Lie groupoids
∞-Lie algebroids
Formal Lie groupoids
Cohomology
Homotopy
Related topics
Examples
-Lie groupoids
-Lie groups
-Lie algebroids
-Lie algebras
Simple Lie groups
Definition
A simple Lie group is a non-abelian connected Lie group with no nontrivial connected normal subgroups.
Via Lie's theorems this is equivalent to the Lie algebra of being a simple Lie algebra (over the real numbers).
Classification
The classification of simple Lie groups consists of four infinite series – the classical Lie groups – and five separate cases – the exceptional Lie groups.
See Wikipedia's list of simple Lie groups.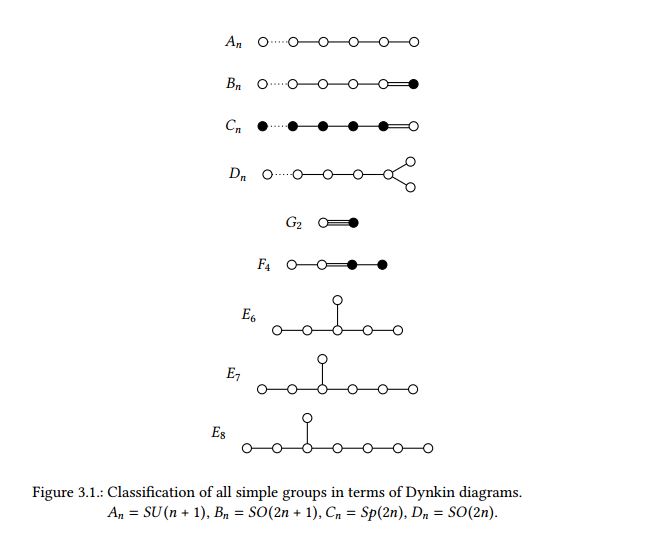 graphics grabbed from Schwichtenberg
See also at ADE classification
Examples
References
Notes on simple Lie algebras and Lie groups (pdf)
See also
Last revised on August 29, 2019 at 08:00:02. See the history of this page for a list of all contributions to it.