Context
Group Theory
Classical groups
Finite groups
Group schemes
Topological groups
Lie groups
Super-Lie groups
Higher groups
Cohomology and Extensions
Related concepts
/clissifying
Contents
Idea
Among all special orthogonal groups , the case of is special, since in the ADE classification of simple Lie groups it corresponds to D4, which makes its representation theory enjoy triality.
Properties
Subgroup lattice
(Varadarajan 01, Theorem 5 on p. 6, see also Kollross 02, Prop. 3.3 (1))
(Varadarajan 01, Theorem 5 on p. 13)
Proof
The square on the right is that from Prop. .
The square in the middle is Varadarajan 01, Lemma 9 on p. 10.
The statement also follows with Onishchik 93, Table 2, p. 144: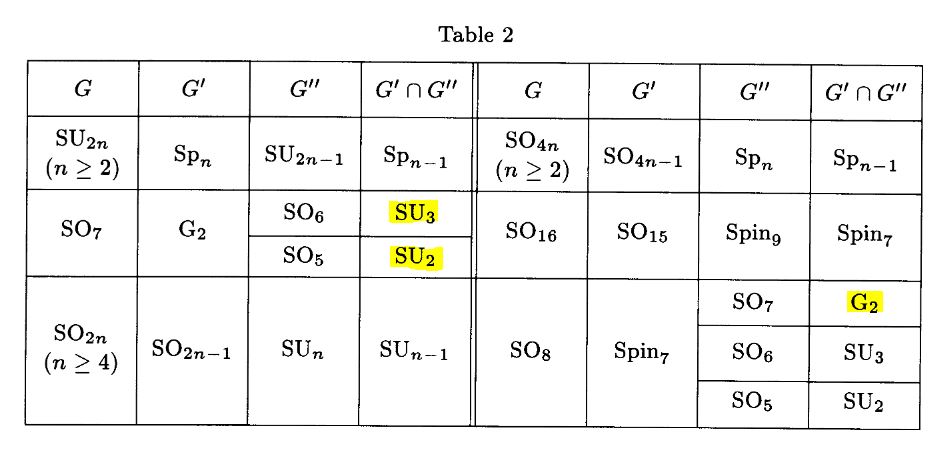 Similarly:
In summary we have these subgroup inclusions
permuted by triality: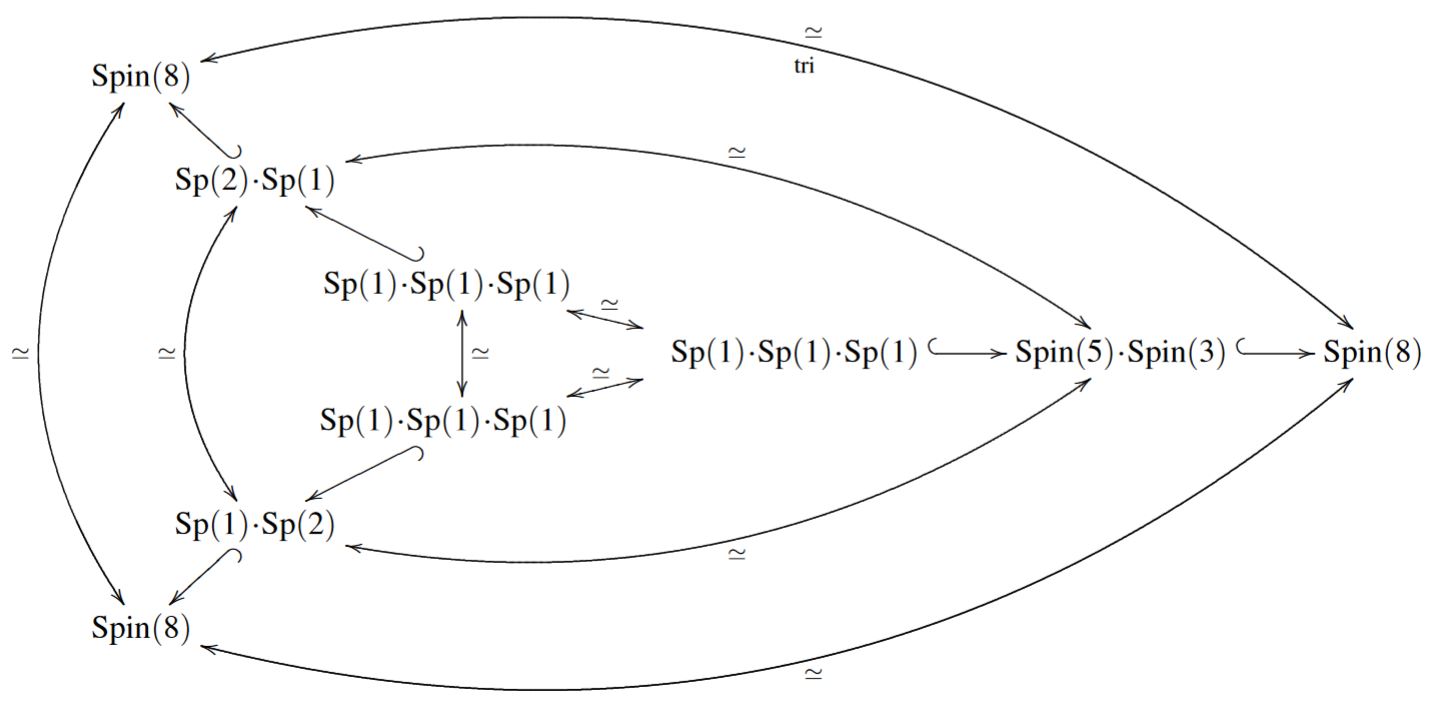 graphics grabbed from FSS 19, Sec. 3.3
Homotopy groups
The homotopy groups of in low degrees:
Cohomology of classifying spaces
This is due to Quillen 71, Čadek-Vanžura 95, see Čadek-Vanžura 97, Lemma 4.1.
In fact .
Hence, in rational cohomology:
-Structure and exceptional geometry
References
General
See also
Subgroup lattice
On the subgroup lattice of Spin(8)
A. L. Onishchik (ed.) Lie Groups and Lie Algebras

I. A. L. Onishchik, E. B. Vinberg, Foundations of Lie Theory,

II. V. V. Gorbatsevich, A. L. Onishchik, Lie Transformation Groups

Encyclopaedia of Mathematical Sciences, Volume 20, Springer 1993

Veeravalli Varadarajan, Spin(7)-subgroups of SO(8) and Spin(8), Expositiones Mathematicae Volume 19, Issue 2, 2001, Pages 163-177 (doi:10.1016/S0723-0869(01)80027-X, pdf)

Martin Čadek, Jiří Vanžura, On and -structures in 8-dimensional vector bundles, Publicacions Matemàtiques Vol. 41, No. 2 (1997), pp. 383-401 (jstor:43737249)

Megan M. Kerr, New examples of homogeneous Einstein metrics, Michigan Math. J. Volume 45, Issue 1 (1998), 115-134 (euclid:1030132086)

Andreas Kollross, Prop. 3.3 of A Classification of Hyperpolar and Cohomogeneity One Actions, Transactions of the American Mathematical Society Vol. 354, No. 2 (Feb., 2002), pp. 571-612 (jstor:2693761)
Discussion with an eye towards foundations of M-theory:
Cohomology
The integral cohomology of the classifying spaces and and the action of triality on these is discussed in
Alfred Gray, Paul S. Green, Sphere transitive structures and the triality automorphism, Pacific J. Math. Volume 34, Number 1 (1970), 83-96 (euclid:1102976640)

Daniel Quillen, The mod 2 cohomology rings of extra-special 2-groups and the spinor groups, Math. Ann . 194 (1971), 19

Martin Čadek, Jiří Vanžura, On the existence of 2-fields in 8-dimensional vector bundles over 8-complexes, Commentationes Mathematicae Universitatis Carolinae, vol. 36 (1995), issue 2, pp. 377-394 (dml-cz:118764)

Martin Čadek, Jiří Vanžura, Section 2 of On and -structures in 8-dimensional vector bundles, Publicacions Matemàtiques Vol. 41, No. 2 (1997), pp. 383-401 (jstor:43737249)