nLab

Dynkin diagram
under construction
Context
Graph theory
Representation theory
Contents
Idea
A Dynkin diagram is a labeled graph that possesses a one-to-one correspondence with a finite indecomposable reduced root system, thus with a simple complex finite dimensional Lie algebra or Cartan matrix?.
The construction of a Dynkin diagram from the Cartan Matrix?, is obtained from the following procedure:
Number of vertices = Number of simple roots = size of = n

If then are connected by a nonlabeled edge.

If and then are connected by arrows labeled by <.
Properties
Classification of simple Lie groups
classification of simple Lie groups: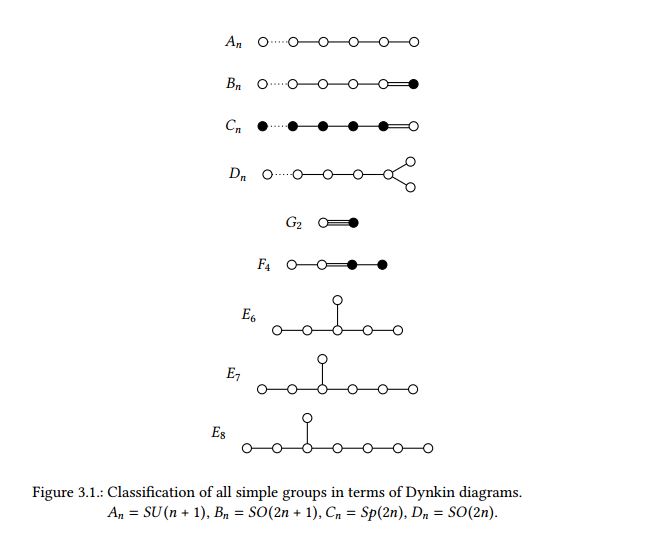 graphics grabbed from Schwichtenberg
ADE-Classification
Those Dynkin diagrams in the ADE classification are the following

Dynkin Index
Let be a finite simple complex Lie algebra with a Killing form on given by the trace in the adjoint representation, for .
For any irreducible finite representation of , Where is the Dynkin Index of .
The Dynkin index can also be defined in terms of the eigenvalue of the quadratic Casimir operator: .
References
General
See also:
Dynkin index
Bianchi M. et al. (2004) Dynkin Index. In: Duplij S., Siegel W., Bagger J. (eds) Concise Encyclopedia of Supersymmetry. Springer, Dordrecht. publisher

C. Meyers, Mees de Roo, P. Sorba, Group-theoretical aspects of instantons. Nuov Cim A 52, 519–530 (1979) (doi:10.1007/BF02770858)
Last revised on June 30, 2023 at 18:41:55. See the history of this page for a list of all contributions to it.