Context
Bundles
Context
Classes of bundles
Universal bundles
Presentations
Examples and Applications
Linear algebra
Background
Variations
Definitions
Paths and cylinders
Homotopy groups
Theorems
Vector bundles
Idea
A vector bundle is a vector space which "continuously varies" over a topological space .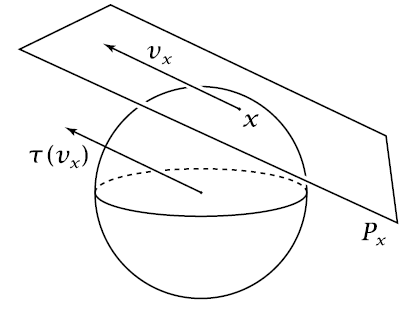 A basic example of vector bundles are tangent bundles of smooth manifolds . Here the vector space at each point of is the tangent space of that point, the space of all tangent vectors based at that point. The graphics on the right shows one of the tangent space of the 2-sphere.
graphics grabbed from Hatcher
Definition
General
A vector bundle over a space is a bundle over which is locally isomorphic to a product with a vector space as fiber. More precisely, the data is an object in equipped with a vector space structure internal to , consisting of maps
(where denotes the fiber product or pullback of along itself) satisfying vector space axioms. This vector space object must satisfy the local triviality condition: there exists an open cover
and an isomorphism from the pullback to the projection ,
as vector space objects in . The projection itself is called a trivial (vector) bundle over .
Equivalently, each fiber carries a vector space structure, and there exists an open covering of together with local trivializations: bundle isomorphisms from a trivial bundle to the pullback of along :
such that induces a linear map between the fibers.
In terms of the local trivialization data, there are transition functions
where the are linear automorphisms of and satisfy the Čech 1-cocycle conditions:
In the converse direction, given such a collection satisfying the 1-cocycle conditions, there is a vector bundle obtained by pasting local trivial bundles together along the , namely the coequalizer of a pair
in the category of vector space objects in . Here the restriction of to the coproduct summands is induced by inclusion:
and the restriction of to the coproduct summands is via the action of the transition functions:
Remarks
Sheaf-theoretic version
Vector bundles can also be defined via sheaf theory, which permits easy transport to general Grothendieck toposes. Let be the category of (set-valued) sheaves on . The sheaf of continuous local sections of the product projection
forms a local ring object ; when interpreted in the internal logic of , it is the Dedekind real numbers object. Then, according to a theorem of Richard Swan, in its sheaf-theoretic incarnation a vector bundle is the same thing as a projective -module.
Virtual vector bundles
In one class of models for K-theory – generalized (Eilenberg-Steenrod) cohomology theory – cocycles are represented by -graded vector bundles (pairs of vector bundles, essentially) modulo a certain equivalence relation. In that context it is sometimes useful to consider a certain variant of infinite-dimensional -graded vector bundles called vectorial bundles.
Much else to be discussed…
Literature
An exposition with an eye towards gauge theory is in section 16.1 of
Discussion with an eye towards K-theory is in