nLab


anti de Sitter spacetime
Context
Riemannian geometry
Basic definitions
Further concepts
Theorems
Applications
Gravity
Formalism
Definition
Spacetime configurations
Properties
Spacetimes
Quantum theory
Contents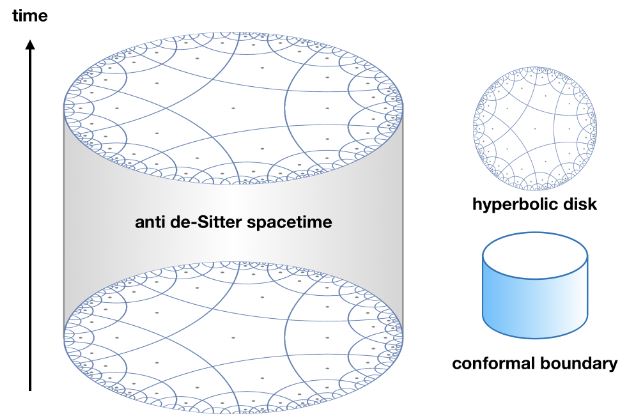 Definition
Up to isometry, the anti de Sitter spacetime of dimension , , is the pseudo-Riemannian manifold whose underlying manifold is the submanifold of the Minkowski spacetime that solves the equation
for some (the "radius" of the spacetime) and equipped with the metric induced from the ambient metric, where denote the canonical coordinates. is homeomorphic to , and its isometry group is .
More generally, one may define the anti de Sitter space of signature as isometrically embedded in the space with coordinates as the sphere .
graphics grabbed from Yan 19
Properties
Coordinate charts
(…)
in horospheric coordinates the AdS metric tensor is
In terms of
this becomes
and with
for
we get
Conformal boundary
(…)
Holography
Asymptotically anti-de Sitter spaces play a central role in the realization of the holographic principle by AdS/CFT correspondence.
References
Discussion of thermal Wick rotation on global anti-de Sitter spacetime (which is already periodic in real time) to Euclidean field theory with periodic imaginary time is in
Discussion of black holes in anti de Sitter spacetime:
Last revised on November 20, 2019 at 09:46:58. See the history of this page for a list of all contributions to it.