Context
Group Theory
Classical groups
Finite groups
Group schemes
Topological groups
Lie groups
Super-Lie groups
Higher groups
Cohomology and Extensions
Spin geometry
Contents
Idea
The spin group in dimension 5.
Properties
Exceptional isomorphism
This is an indirect consequence of triality, see e.g. Čadek-Vanžura 97)
Action on quaternionic Hopf fibration
This is almost explicit in Porteous 95, p. 263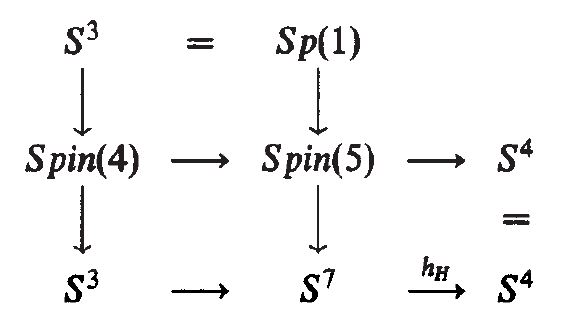 Cohomology
This is a special case of the general statement in Pittie 91, see e.g. Kalkkinen 06, Section 3).
Coset spaces
coset space-structures on n-spheres:
see also Spin(8)-subgroups and reductions
homotopy fibers of homotopy pullbacks of classifying spaces:

(from FSS 19, 3.4)
-Structure and exceptional geometry
linebreak
References
Ian Porteous, Clifford Algebras and the Classical Groups, Cambridge Studies in Advanced Mathematics, Cambridge University Press (1995)

Martin Čadek, Jiří Vanžura, On and -structures in 8-dimensional vector bundles, Publicacions Matemàtiques Vol. 41, No. 2 (1997), pp. 383-401 (jstor:43737249)

Raoul Bott, Alberto Cattaneo, Integral Invariants of 3-Manifolds, J. Diff. Geom., 48 (1998) 91-133 (arXiv:dg-ga/9710001)

Harsh Pittie, The integral homology and cohomology rings of SO(n) and Spin(n), Journal of Pure and Applied Algebra Volume 73, Issue 2, 19 August 1991, Pages 105–153 (doi:10.1016/0022-4049(91)90108-E)

Jussi Kalkkinen, Global Spinors and Orientable Five-Branes, JHEP0609:028, 2006 (arXiv:hep-th/0604081)