nLab

topological cofiber sequence
under construction
Contents
Idea
We discuss in detail the realization of the abstract concept of cofiber sequences in its explicit incarnation in point-set topology, the way it is traditionally presented in topology textbooks.
Hence we use the concepts of homotopy equivalence instead of weak homotopy equivalence. For discussion using the latter in the context of the classical model structure on topological spaces see instead at Introduction to Homotopy Theory the section Homotopy fiber sequences.
Background
Throughout, write for the closed interval equipped with its Euclidean metric topology.
Homotopy equivalences
Cofibrations
Pushouts / space attachments
Cofiber sequences (below) are constructed by iterated pushouts in the category Top of topological spaces with continuous functions between them (space attachments), see at Top – Universal constructions.
A general abstract fact about pushouts which we will use repeatedly in the proofs below is the following:
We need the following two facts (prop. prop. ) regarding the stability of cofibrations under pushout.
Prop. is a consequence of the existence of the Strøm model structure and the classical model structure on topological spaces and of the fact that the identity functors constitute a Quillen adjunction.
Prop. is again a consequence of the existence of the Strøm model structure : It is the statement that is a left proper model category which follows (this cor.) since all its objects are evidently cofibrant. An elementary proof in point-set topology is offered in (Hatcher, prop. 0.17)
Mapping cones
The mapping cone of a map is to be thought of as the homotopy-quotient of the by , as opposed to be the naive quotient. This is made precise by the following two statements, lemma and lemma :
Cofiber sequences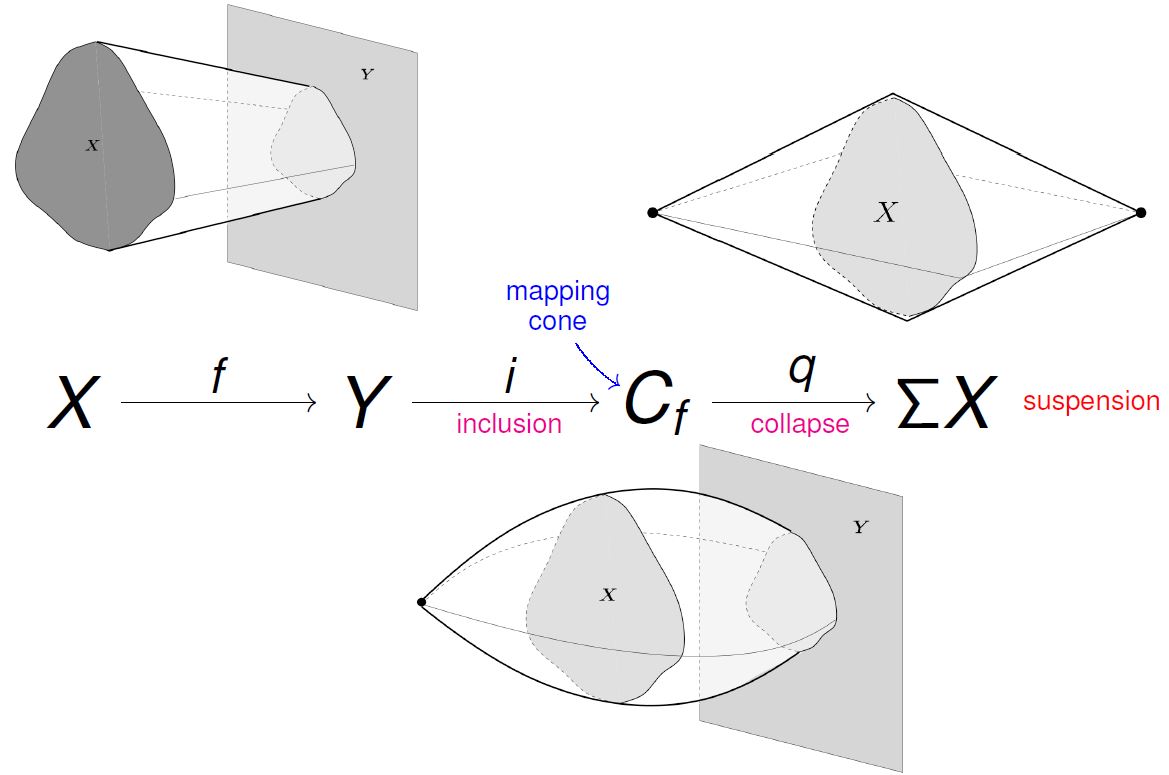 (graphics taken from Muro 10)
Hence from every with closed image, we get long sequences
Pointed cofiber sequence
(…)
Last revised on July 4, 2017 at 18:22:39. See the history of this page for a list of all contributions to it.