Context
Manifolds and cobordisms
Contents
Idea
Given an embedding of smooth manifolds of codimension , the Thom collapse map (Thom 54) is the continuous function from to the n-sphere which assigns asymptotic normal distance from the submanifold, measured
in direction perpendicular to the submanifold, with respect to a normal framing;

asymptotically, regarding all points outside a tubular neighbourhood as being at infinity.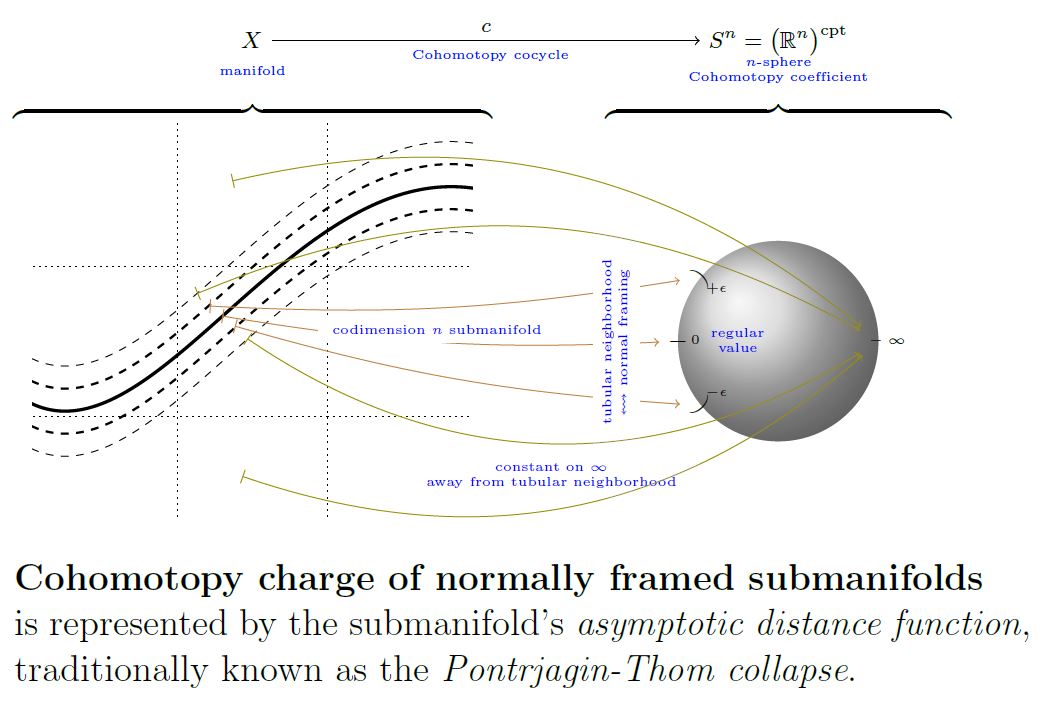 graphics grabbed from SS 19
For maximal codimension , hence for 0-dimensional submanifolds, hence for configurations of points, this is alternatively known as the "electric field map" (Salvatore 01 following Segal 73, Section 1, see also Knudsen 18, p. 49) or the "scanning map" (Kallel 98).
The homotopy class of the Thom collpase map may be regarded as the Cohomotopy charge of the submanifolds, as measured in -Cohomotopy-cohomology theory.
The PT collapse is a useful approximation to the would-be left inverse of the embedding of topological spaces
As such, it is is used to define pushforward of cohomology-classes along ("Umkehr maps"). It also appears as the key step in Thom's theorem.
Definition
Component definition in topological spaces
All topological spaces in the following are taken to be compact.
Consider and two manifolds and
an embedding.
Write
Since in the construction of remark every point of is associated to a particular point of , the collapse map lifts to a map
from to the smash product of the Thom space (canonically regarded as a pointed topological space) and the topological space with a base point adjoined.
(e.g. Rudyak 98, p. 317)
Equivalently, one may proceed as follows. For a framed manifold i.e. a manifold with a chosen trivialization of the normal bundle in some one has where is the union of with a disjoint base point. Identify a sphere with a one-point compactification . Then the Pontrjagin-Thom construction is the map obtained by collapsing the complement of the interior of the unit disc bundle to the point corresponding to and by mapping each point of to itself. Thus to a framed manifold one associates the composition
and its homotopy class defines an element in .
Abstract definition in terms of duality
The following is a more abstract description of Pontryagin-Thom collapse in the stable homotopy theory of sphere spectrum-(∞,1)-module bundles.
Properties
General
Relation between cohomotopy and cobordism
For a closed smooth manifold of dimension , the Pontryagin-Thom construction (e.g. Kosinski 93, IX.5) identifies the set
of cobordism classes of closed and normally framed submanifolds of dimension inside with the cohomotopy of in degree
(e.g. Kosinski 93, IX Theorem (5.5))
In particular, by this bijection the canonical group structure on cobordism groups in sufficiently high codimension (essentially given by disjoint union of submanifolds) this way induces a group structure on the cohomotopy sets in sufficiently high degree.
The following terms all refer to essentially the same concept:
References
An illustration is given on slide 15
The general abstract formulation in stable homotopy theory is in sketched in section 9 of
and is in section 10 of
with an emphases on parameterized spectra.