nLab


E-string
Context
String theory
Ingredients
Critical string models
Extended objects
Topological strings
Backgrounds
Phenomenology
Contents
Idea
In string theory, specifically in type IIA string theory, the brane intersection of a D2-brane with an O8-plane is called an E-string.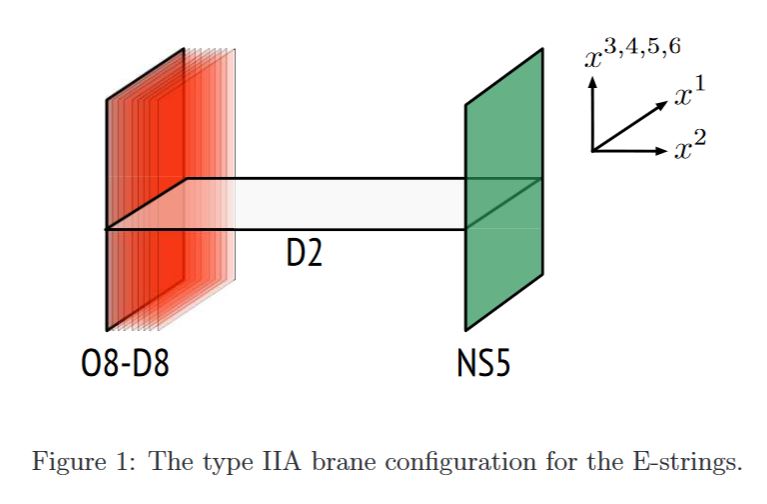 graphics grabbed from KKLPV 14, p. 4
Hence under the S-duality between type I and heterotic string theory the E-string is dual to the heterotic string.
The M-theory lift of the E-string is the brane intersection of an M2-brane with an M9-brane which wraps the M-theory circle fiber, hence an -brane of Horava-Witten theory (KKLPV 14, p. 4/5), hence a D8-brane from the dual perspective of type I' string theory.
The other end of the M2-brane-lift of the E-string is on an M5-brane: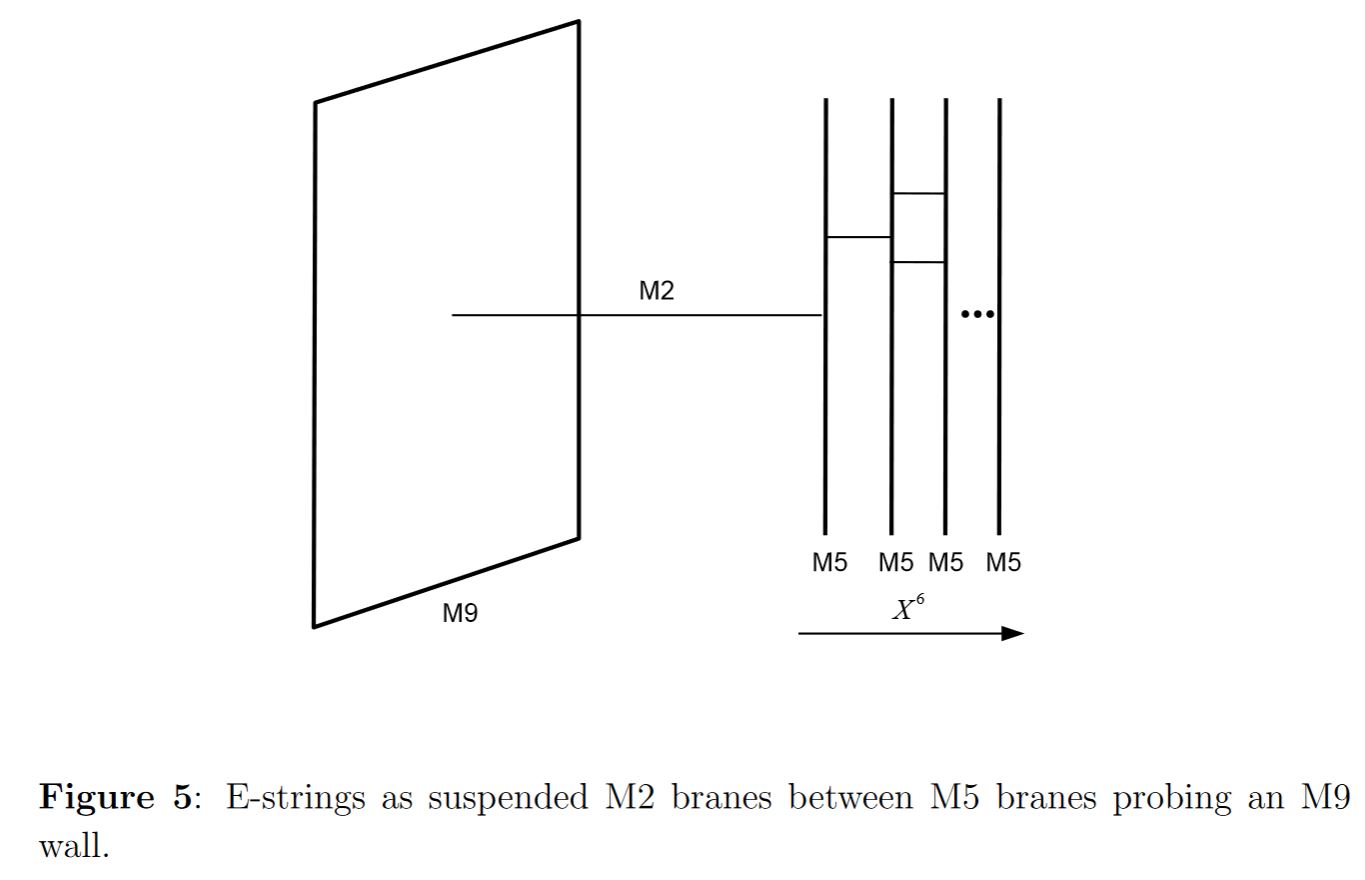 graphics grabbed from GHKKLV 15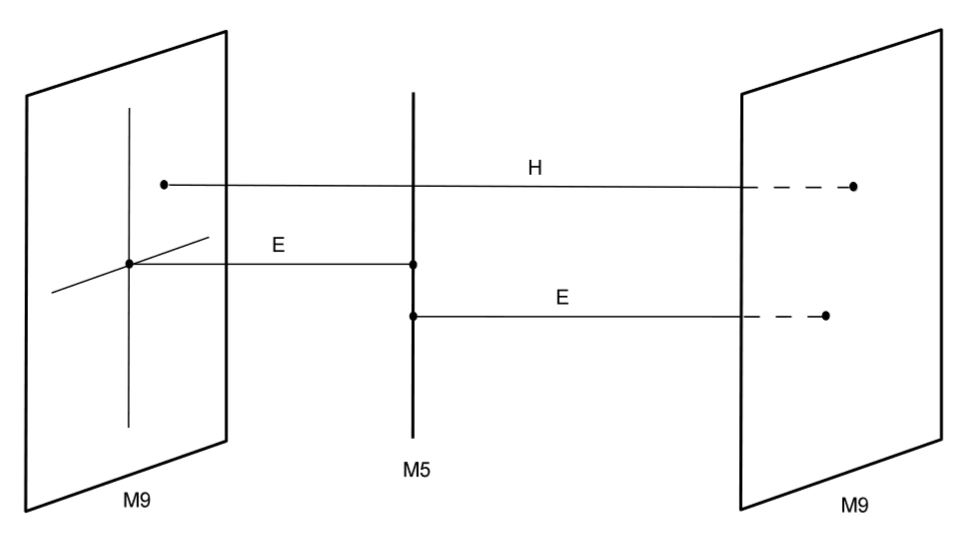 graphics grabbed from HLV 14
In contrast, if both ends of the M2-brane are on an M5-brane, some authors speak of "M-strings":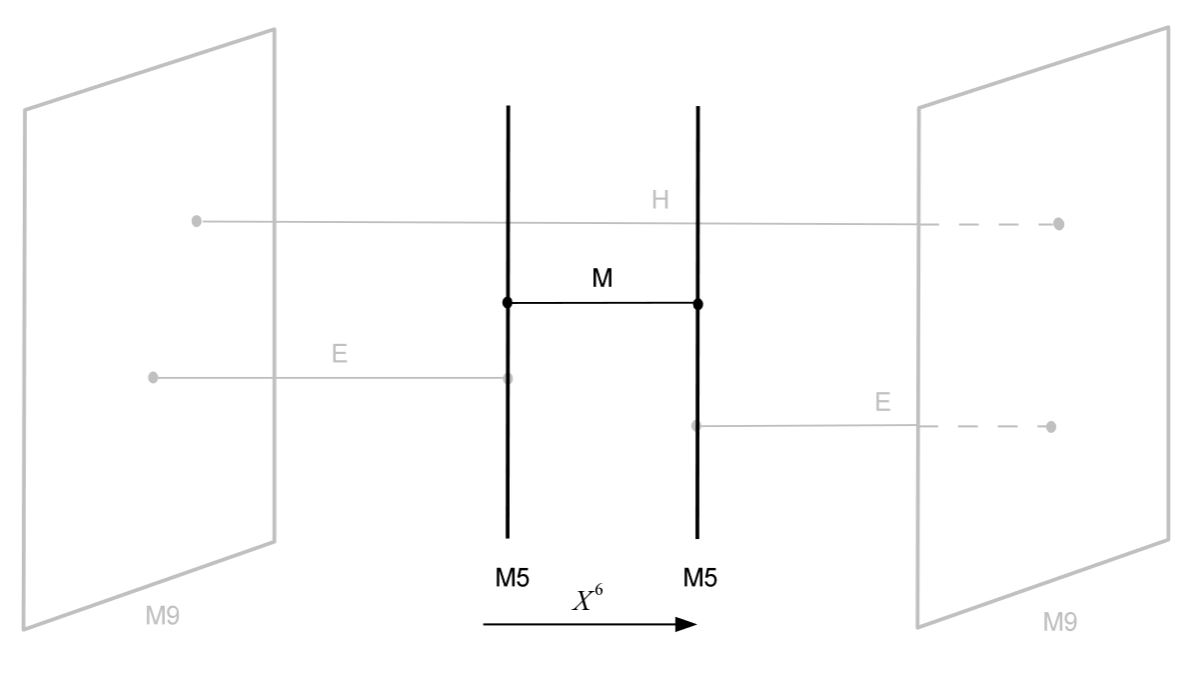 graphics grabbed from HLV 14
References
General
Babak Haghighat, Guglielmo Lockhart, Cumrun Vafa, Fusing E-string to heterotic string: , Phys. Rev. D 90, 126012 (2014) (arXiv:1406.0850)

Joonho Kim, Seok Kim, Kimyeong Lee, Jaemo Park, Cumrun Vafa, Elliptic Genus of E-strings, JHEP 1709 (2017) 098 (arXiv:1411.2324)

Abhijit Gadde, Babak Haghighat, Joonho Kim, Seok Kim, Guglielmo Lockhart, Cumrun Vafa, 6d String Chains, JHEP 1802 (2018) 143 (arXiv:1504.04614)
In F-theory
Discussion in F-theory:
Jie Gu, Babak Haghighat, Albrecht Klemm, Kaiwen Sun, Xin Wang, Elliptic Blowup Equations for 6d SCFTs. III: E–strings, M–strings and Chains (arXiv:1911.11724)
Relation to D-D-brane bound states
The lift of Dp-D(p+2)-brane bound states in string theory to M2-M5-brane bound states/E-strings in M-theory, under duality between M-theory and type IIA string theory+T-duality, via generalization of Nahm's equation (eventually motivating the BLG model/ABJM model):
Anirban Basu, Jeffrey Harvey, The M2-M5 Brane System and a Generalized Nahm's Equation, Nucl.Phys. B713 (2005) 136-150 (arXiv:hep-th/0412310)

Jonathan Bagger, Neil Lambert, Sunil Mukhi, Constantinos Papageorgakis, Section 2.2.1 of Multiple Membranes in M-theory, Physics Reports, Volume 527, Issue 1, 1 June 2013, Pages 1-100 (arXiv:1203.3546, doi:10.1016/j.physrep.2013.01.006)
Last revised on June 1, 2020 at 14:16:45. See the history of this page for a list of all contributions to it.