nLab


Spin(5)
Context
Group Theory
Classical groups
Finite groups
Group schemes
Topological groups
Lie groups
Super-Lie groups
Higher groups
Cohomology and Extensions
Spin geometry
Contents
Idea
The spin group in dimension 5.
Properties
Exceptional isomorphism
This is an indirect consequence of triality, see e.g. Čadek-Vanžura 97)
Action on quaternionic Hopf fibration
This is almost explicit in Porteous 95, p. 263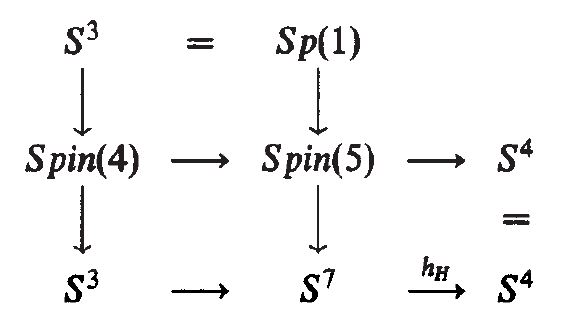 Cohomology
(e.g. Kalkkinen 06, Section 3)
linebreak
References
Ian Porteous, Clifford Algebras and the Classical Groups, Cambridge Studies in Advanced Mathematics, Cambridge University Press (1995)

Martin Čadek, Jiří Vanžura, On and -structures in 8-dimensional vector bundles, Publicacions Matemàtiques Vol. 41, No. 2 (1997), pp. 383-401 (jstor:43737249)

Raoul Bott, Alberto Cattaneo, Integral Invariants of 3-Manifolds, J. Diff. Geom., 48 (1998) 91-133 (arXiv:dg-ga/9710001)

Jussi Kalkkinen, Global Spinors and Orientable Five-Branes, JHEP0609:028, 2006 (arXiv:hep-th/0604081)
Last revised on March 24, 2019 at 10:56:45. See the history of this page for a list of all contributions to it.