nLab


octonion
Context
Arithmetic
Algebra
Algebraic theories
Algebras and modules
Higher algebras
Model category presentations
Geometry on formal duals of algebras
Theorems
Octonions
Idea
An octonion or Cayley number is a kind of number similar to a quaternion number but with seven instead of just three square roots of unity adjoined, and satisfying certain relations.
The octonions, usually denoted , form the largest of the four normed division algebras over the real numbers.
Definition
Definition
The octonions is the nonassociative algebra over the real numbers which is generated from seven generators subject to the relations
for all

for an edge or circle in the following diagram (a labeled version of the Fano plane) the relations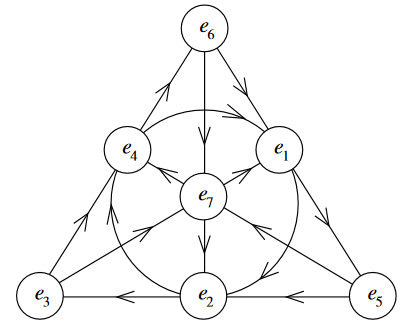 (graphics grabbed from Baez 02)
Properties
Non-associativity
The octonions are not an associative algebra. The non-zero octonions and the unit octonions form Moufang loops.
Automorphisms
The automorphism group of the octonions is G2.
Basic triples
Definition
A special triple or basic triple is a triple of three octonions such that
(e.g. Baez 02, 4.1)
exceptional spinors and real normed division algebras
References
A survey is in
The concept of "special triples" or ("basic triples") used above seems to go back to
Revised on February 21, 2018 00:32:02 by
Urs Schreiber
(91.230.41.202)