Context
Fields and quanta
Contents
Idea
In the standard model of particle physics (specifically in QCD), a baryon is bound state of three quarks via the strong nuclear force. Baryons are the "heavy" types of hadrons, the other being the mesons.
Examples of baryons are the nucleons: protons and neutrons. Other examples are Lambda baryons.
Also pentaquarks are counted as baryons.
Properties
Conceptualization and computation in AdS/QCD
In the Witten-Sakai-Sugimoto model for strongly coupled QCD via an intersecting D-brane model, the hadrons in QCD correspond to string-theoretic-phenomena in an ambient bulk field theory on an approximately anti de Sitter spacetime:
the mesons (bound states of 2 quarks) correspond to open strings in the bulk, whose two endpoints on the asymptotic boundary correspond to the two quarks;

baryons (bound states of quarks) appear in two different but equivalent (Sugimoto 16, 15.4.1) guises:

as wrapped D4-branes with open strings connecting them to the D8-brane
For review see Sugimoto 16, also Rebhan 14, around (18).

graphics grabbed from Sugimoto 16
This produces baryon mass spectra with moderate quantitative agreement with experiment (HSSY 07):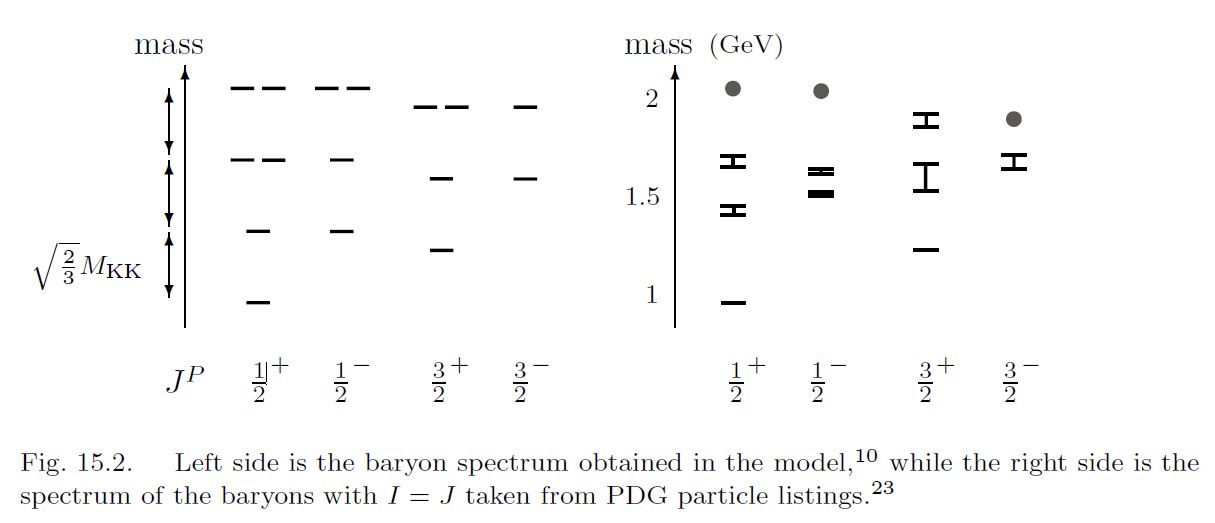 graphics grabbed from Sugimoto 16
References
General
Introduction and review:
Baryons as 3-constituent quark bound states:
Gernot Eichmann, Helios Sanchis-Alepuz, Richard Williams, Reinhard Alkofer, Christian S. Fischer, Baryons as relativistic three-quark bound states, Progress in Particle and Nuclear Physics Volume 91, November 2016, Pages 1-100 (arXiv:1606.09602, doi:10.1016/j.ppnp.2016.07.001)
Baryons as quark/diquark bound states:
Experiment:
Eberhard Klempt, Jean-Marc Richard, Baryon spectroscopy, Rev. Mod. Phys. 82:1095-1153, 2010 (arXiv:0901.2055
See also
Baryons as Skyrmions
The Skyrmion-model for baryons (see there for more references):
Herbert Weigel, Baryons as Three Flavor Solitons, Int. J. Mod. Phys. A11:2419-2544, 1996 (arXiv:hep-ph/9509398, cds:288541, doi:10.1142/S0217751X96001218)

Herbert Weigel, Chiral Soliton Models for Baryons, Lecture Notes in Physics book series, volume 743, Springer 2008 (doi:10.1007/978-3-540-75436-7)

Mannque Rho, Ismail Zahed (eds.) The Multifaceted Skyrmion, World Scientific 2016 (doi:10.1142/9710)
Hadrons as KK-modes of 5d Yang-Mills theory
The suggestion that the tower of observed vector mesons – when regarded as gauge fields of hidden local symmetries of chiral perturbation theory – is reasonably modeled as a Kaluza-Klein tower of D=5 Yang-Mills theory:
That the pure pion-Skyrmion-model of baryons is approximately the KK-reduction of instantons in D=5 Yang-Mills theory is already due to:
with a hyperbolic space-variant in:
Further discussion of this approximation:
The observation that the result of Atiyah-Manton 89 becomes an exact Kaluza-Klein construction of Skyrmions/baryons from D=5 instantons when the full KK-tower of vector mesons as in Son-Stephanov 03 is included into the Skyrmion model (see also there) is due to:
In the Sakai-Sugimoto model of holographic QCD the D=5 Yang-Mills theory of this hadron Kaluza-Klein theory is identified with the worldvolume-theory of D8-flavour branes intersected with D4-branes in an intersecting D-brane model:
Tadakatsu Sakai, Shigeki Sugimoto, section 5.2 of Low energy hadron physics in holographic QCD, Prog.Theor.Phys.113:843-882, 2005 (arXiv:hep-th/0412141)

Tadakatsu Sakai, Shigeki Sugimoto, section 3.3. of More on a holographic dual of QCD, Prog.Theor.Phys.114:1083-1118, 2005 (arXiv:hep-th/0507073)

Hiroyuki Hata, Tadakatsu Sakai, Shigeki Sugimoto, Shinichiro Yamato, Baryons from instantons in holographic QCD, Prog.Theor.Phys.117:1157, 2007 (arXiv:hep-th/0701280)

Stefano Bolognesi, Paul Sutcliffe, The Sakai-Sugimoto soliton, JHEP 1401:078, 2014 (arXiv:1309.1396)

Lorenzo Bartolini, Stefano Bolognesi, Andrea Proto, From the Sakai-Sugimoto Model to the Generalized Skyrme Model, Phys. Rev. D 97, 014024 2018 (arXiv:1711.03873)
Extensive review of this holographic/KK-theoretic-realization of quantum hadrodynamics from D=5 Yang-Mills theory is in:
Via the realization of D4/D8 brane bound states as instantons in the D8-brane worldvolume-theory (see there and there), this relates also to the model of baryons as wrapped D4-branes, originally due to
and further developed in the nuclear matrix model:
Koji Hashimoto, Norihiro Iizuka, Piljin Yi, A Matrix Model for Baryons and Nuclear Forces, JHEP 1010:003, 2010 (arXiv:1003.4988)

Si-wen Li, Tuo Jia, Matrix model and Holographic Baryons in the D0-D4 background, Phys. Rev. D 92, 046007 (2015) (arXiv:1506.00068)

Koji Hashimoto, Yoshinori Matsuo, Takeshi Morita, Nuclear states and spectra in holographic QCD, JHEP12 (2019) 001 (arXiv:1902.07444)

Yasuhiro Hayashi, Takahiro Ogino, Tadakatsu Sakai, Shigeki Sugimoto, Stringy excited baryons in holographic QCD, Prog Theor Exp Phys (2020) (arXiv:2001.01461)
In relation to Yang-Mills monopoles:
Discussion, in this context, of D-term effects affecting hadron stability:
More on baryons in the Sakai-Sugimoto model of holographic QCD:
More on mesons in holographic QCD:
An alternative scenario of derivation of 4d Skyrmions by KK-compactification of D=5 Yang-Mills theory, now on a closed interval, motivated by M5-branes instead of by D4/D8-brane intersections as in the Sakai-Sugimoto model, is discussed in:
following
See also:
Y. H. Ahn, Sin Kyu Kang, Hyun Min Lee, Towards a Model of Quarks and Leptons (arXiv:2112.13392)
In the large limit
In the large N limit: