Contents
Idea
The classical model structure on simplicial sets or Kan-Quillen model structure , (Quillen 67, II.3) is a model category structure on the category sSet of simplicial sets which represents the standard classical homotopy theory.
Its weak equivalences are the simplicial weak equivalences (isomorphisms on simplicial homotopy groups), its fibrations are the Kan fibrations and its cofibrations are the monomorphisms (degreewise injections).
The singular simplicial complex/geometric realization adjunction constitutes a Quillen equivalence between and , the classical model structure on topological spaces. This is sometimes called part of the statement of the homotopy hypothesis for Kan complexes. In the language of (∞,1)-category theory this means that and both are presentations of the (∞,1)-category ∞Grpd of ∞-groupoids.
There are also other model structures on sSet itself, see at model structure on simplicial sets for more. This entry here focuses on just the standard classical model structure.
Background on combinatorial topology
This section reviews basics of the theory of simplicial sets (the modern version of the original "combinatorial topology") necessary to define, verify and analyse the classical model category structure on simplicial sets, below. See also at simplicial homotopy theory.
Simplicial sets
The concept of simplicial sets is secretly well familiar already in basic algebraic topology: it reflects just the abstract structure carried by the singular simplicial complexes of topological spaces, as in the definition of singular homology and singular cohomology.
Conversely, every simplicial set may be geometrically realized as a topological space. These two adjoint operations turn out to exhibit the homotopy theory of simplicial sets as being equivalent (Quillen equivalent) to the homotopy theory of topological spaces. For some purposes, working in simplicial homotopy theory is preferable over working with topological homotopy theory.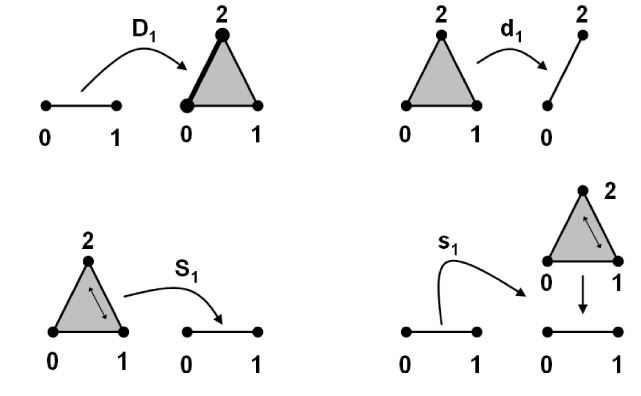 (graphics taken from Friedman 08)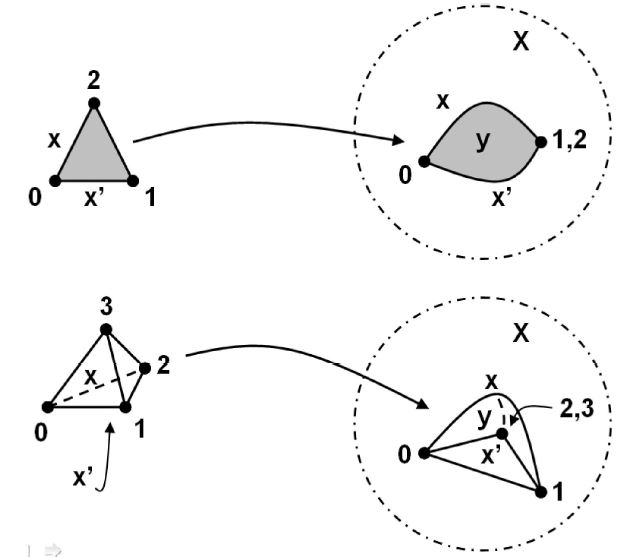 (graphics taken from Friedman 08)
The sets here are closely related by an interlocking system of maps that make them form what is called a simplicial set, and as such the collection of these sets of singular simplices is called the singular simplicial complex of . We discuss the definition of simplicial sets now and then come back to this below in def. .
Since the topological -simplices from def. sit inside each other by the face inclusions of def.
and project onto each other by the degeneracy maps, def.
we dually have functions
that send each singular -simplex to its -face and functions
that regard an -simplex as beign a degenerate ("thin") -simplex. All these sets of simplices and face and degeneracy maps between them form the following structure.
It is straightforward to check by explicit inspection that the evident injection and restriction maps between the sets of singular simplices make into a simplicial set. However for working with this, it is good to streamline a little:
This makes the following evident:
With this now the structure of a simplicial set on , def. , is manifest: it is just the nerve of with respect to , namely:
Simplicial homotopy
The concept of homotopy of morphisms between simplicial sets proceeds in direct analogy with that in topological spaces.
The the basic invariants of simplicial sets/Kan complexes in simplicial homotopy theory are their simplicial homotopy groups, to which we turn now.
Given that a Kan complex is a special simplicial set that behaves like a combinatorial model for a topological space, the simplicial homotopy groups of a Kan complex are accordingly the combinatorial analog of the homotopy groups of topological spaces: instead of being maps from topological spheres modulo maps from topological disks, they are maps from the boundary of a simplex modulo those from the simplex itself.
Accordingly, the definition of the discussion of simplicial homotopy groups is essentially literally the same as that of homotopy groups of topological spaces. One technical difference is for instance that the definition of the group structure is slightly more non-immediate for simplicial homotopy groups than for topological homotopy groups (see below).
These sets are taken to be equipped with the following group structure.
(e.g. Goerss-Jardine 99, p. 26)
e.g. (Goerss-Jardine 99, lemma 7.1)
e.g. (Goerss-Jardine 99, theorem 7.2)
Kan fibrations

(graphics taken from Friedman 08)
More generally:
This is the simplicial incarnation of the concept of Serre fibrations of topological spaces:
The proof uses the basic tool of nerve and realization-adjunction to which we get to below in prop. .
(e.g. Goerss-Jardine 99, chapter I, lemma 10.6)
While simplicial sets have the advantage of being purely combinatorial structures, the singular simplicial complex of any given topological space, def. is in general a huge simplicial set which does not lend itself to detailed inspection. The following is about small models.
(Goerss-Jardine 99, chapter I, section 4, Joyal-Tierney 09, section 1.7)
(e.g. Goerss-Jardine 99, chapter I, prop. 10.3, Joyal-Tierney 08, theorem 3.3.1, theorem 3.3.3).
(e.g. Goerss-Jardine 99, chapter I, lemma 10.4)
(e.g. Goerss-Jardine 99, chapter I, corollary 10.8)
Geometric realization
So far we we have considered passing from topological spaces to simplicial sets by applying the singular simplicial complex functor of def. . Now we discuss a left adjoint of this functor, called geometric realization, which turns a simplicial set into a topological space by identifying each of its abstract n-simplices with the standard topological -simplex.
This is an example of a general abstract phenomenon:
(Kan 58)
Topological geometric realization takes values in particularly nice topological spaces.
(e.g. Goerss-Jardine 99, chapter I, prop. 2.3)
Thus for a topological space the adjunction counit of the nerve and realization-adjunction is a candidate for a replacement of by a CW-complex. For this, should be at least a weak homotopy equivalence, i.e. induce isomorphisms on all homotopy groups. Since homotopy groups are built from maps into out of compact topological spaces it is plausible that this works if the topology of is entirely detected by maps out of compact topological spaces into . Topological spaces with this property are called compactly generated.
We take compact topological space to imply Hausdorff topological space.
Often the condition is added that a compactly closed topological space be also a weakly Hausdorff topological space.
This is due to (Steenrod 67), expanded on in (Lewis 78, appendix A). One says that prop. with example makes a "convenient category of topological spaces".
See at Geometric realization is left exact.
This is due to (Gabriel-Zisman 67). See for instance (Goerss-Jardine 99, chapter I, corollary 10.8, theorem 10.9).
This is due to (Quillen 68). See for instance (Goerss-Jardine 99, chapter I, theorem 10.10).
e.g. (Goerss-Jardine 99, chapter I, prop. 11.1 and p. 63).
The classical model structure
Properties
Basic properties
This appears spelled out for instance as (Goerss-Jardine 99, theorem 11.2).
In fact:
As a corollary, we deduce that the classical model structure on is the smallest (in terms of weak equivalences) model structure for which the cofibrations are the monomorphisms and the weak equivalences include the (combinatorial) homotopy equivalences.
Properness
The Quillen model structure is both left and right proper. Left properness is automatic since all objects are cofibrant. Right properness follows from the following argument: it suffices to show that there is a functor which (1) preserves fibrations, (2) preserves pullbacks of fibrations, (3) preserves and reflects weak equivalences, and (4) lands in a category in which the pullback of a weak equivalence along a fibration is a weak equivalence. For if so, we can apply to the pullback of a fibration along a weak equivalence to get another such pullback in the codomain of , which is a weak equivalence, and hence the original pullback was also a weak equivalence. Two such functors are
This may be found, for instance, in II.8.6–7 of Goerss-Jardine. Another proof may be found in Moss, and a different proof of properness may be found in Cisinski, Prop. 2.1.5.
Quillen equivalence with
References