Context
Gravity
Formalism
Definition
Spacetime configurations
Properties
Spacetimes
Quantum theory
Physics
Contents
Idea
The theory of gravity in dimensions famously has black hole solutions, being the limiting configuration of a point mass gravitational source. In higher dimensional gravity, and in particular in higher dimensional supergravity, there are analogous solutions, which however are limiting configurations of a gravitational source that is supported on a line, or a surface, or a higher dimensional space. For a surface one might speak of black membrane solutions hence generally of black brane solutions.
Particularly the BPS states among the black branes in supergravity, i.e. those solutions that carry Killing spinors, include configurations that look like the strong-coupling version of the Green-Schwarz super p-branes.
1/2 BPS black branes in supergravity: D-branes, F1-brane, NS5-brane, M2-brane, M5-brane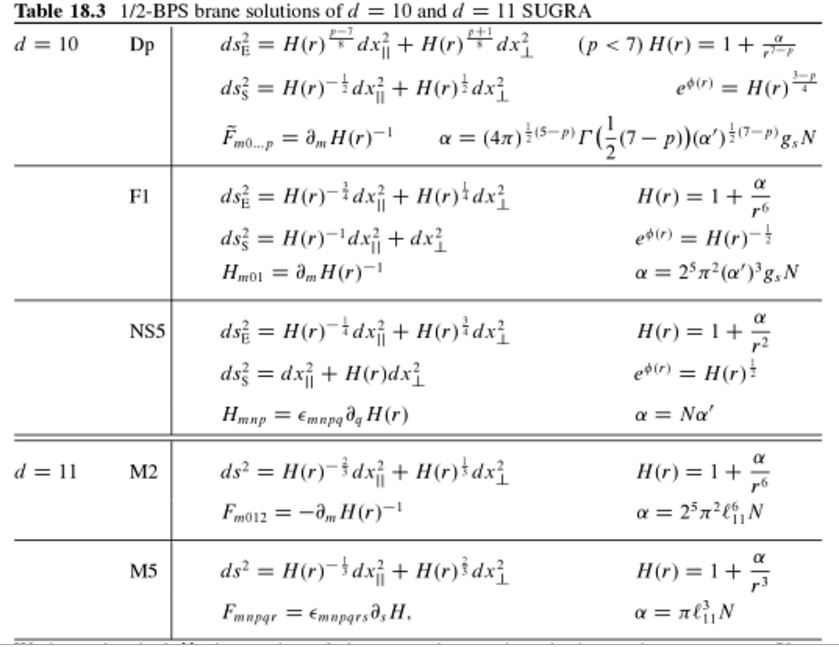 (table taken from Blumenhagen-Lüst-Theisen 13, Chapter 18.5)
The near-horizon geometry of these black branes is generically that of anti de Sitter spacetime times a sphere. To the extent that the worldvolume theory of the branes is a superconformal QFT, this is the origin of the AdS-CFT correspondence.
Properties
Weak coupling correspondence
The types of black branes that can occur in theories of supergravity that are obtained from the maximal 11-dimensional supergravity match precisely the types of D-branes and NS-branes that appear in the corresponding perturbative superstring theories.
The idea is that both these brane-phenomena are aspects of one single entity:
This duality of the brane picture is at the heart of the AdS/CFT correspondence. See there for more details.
Examples
References
Prehistory
See also
General
Original articles:
The M5-brane was maybe first found as a black brane of 11-dimensional supergravity (the black fivebrane) in
The observation that black -branes metric for odd are completely non-singular is due to
The suggestion that extremal/BPS state black branes are the strong coupling incarnation of fundamental branes originates in
Review includes,
and in the context of multiple M2-branes in the BLG model:
Further developments include
Blackfold approach