Context
String theory
Ingredients
Critical string models
Extended objects
Topological strings
Backgrounds
Phenomenology
Contents
Idea
What is called double dimensional reduction is a variant of Kaluza-Klein mechanism combined with fiber integration in the presence of branes: given a spacetime of dimension in which a -brane propagates, its KK-reduction results in a -dimensional effective spacetime containing a -brane together with a "doubly reduced" -brane, which is the reduction of those original -brane configurations that wrapped the cycle along which the KK-reduction takes place.
Definition
Via fiber integration in ordinary differential cohomology
Let be the smooth topos. For write for the universal moduli stack of circle n-bundles with connection (given by the Deligne complex).
Notice that fiber integration in ordinary differential cohomology has the following stacky incarnation (see here):
Via cyclic loop spaces
We discuss here a formalization of double dimensional reduction via cyclification adjunction (FSS 16, section 3, BMSS 18, section 2.2). For more see at geometry of physics – fundamental super p-branes the section on double dimensional reduction.
Examples
Reduction on the circle
For general super -branes
Double dimensional reduction for the super--branes in dimensions which are described by the Green-Schwarz action functional corresponds to moving down and left the diagonals in the brane scan table of consistent such branes: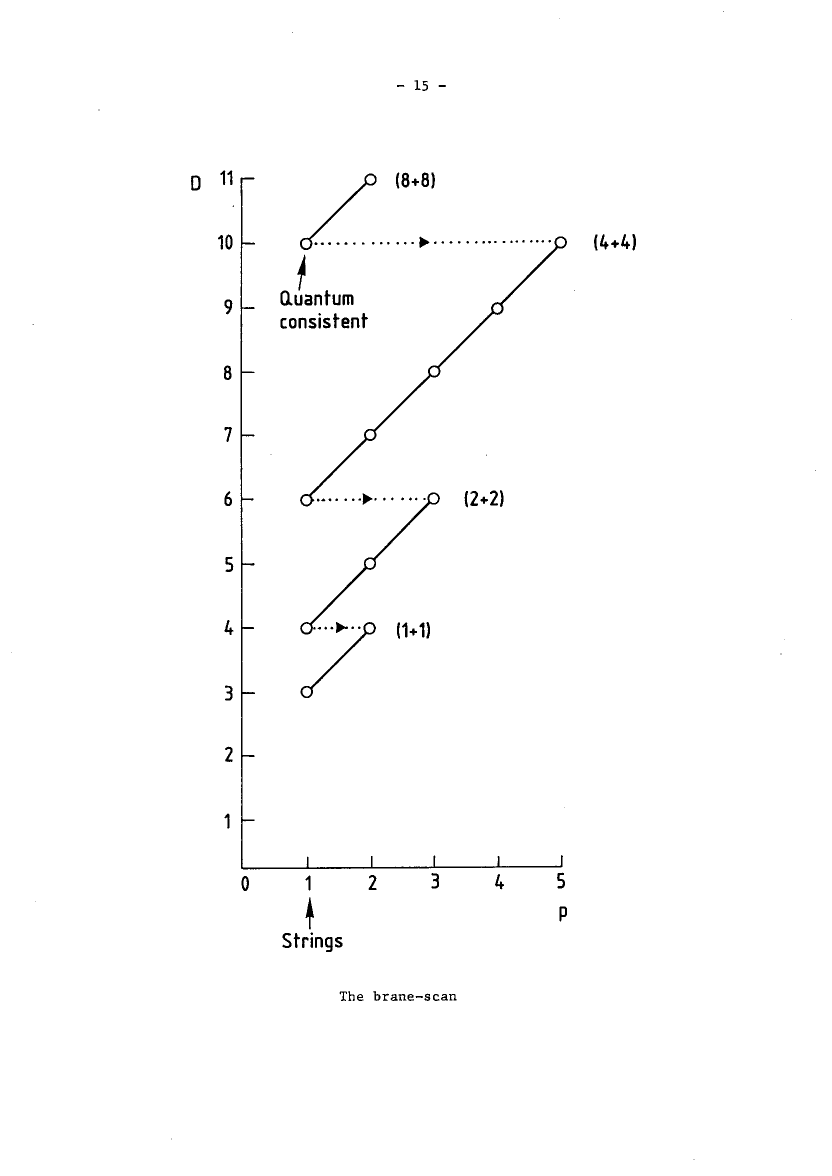 In particular
From M-branes to F-branes
References
Formalization of double dimensional reduction is discussed in rational homotopy theory in
and in full homotopy theory in
Exposition is in
and further discussion in
Reduction of membrane to string
The concept of double dimensional reduction was introduced, for the case of the reduction of the supermembrane in 11d to the Green-Schwarz superstring in 10d, in
The above "brane scan" table showing the double dimensional reduction pattern of the super--branes given by the Green-Schwarz action functional (see there for more references on this) is taken from
Michael Duff, Supermembranes: the first fifteen weeks CERN-TH.4797/87 (1987) (scan)
Reduction of M5-brane to D4-brane
The double dimensional reduction of the M5-brane to the D4-brane:
Paul Townsend, D-branes from M-branes, Phys. Lett. B373 (1996) 68-75 (arXiv:hep-th/9512062)

Mina Aganagic, Jaemo Park, Costin Popescu, John Schwarz, Section 6 of World-Volume Action of the M Theory Five-Brane, Nucl.Phys. B496 (1997) 191-214 (arXiv:hep-th/9701166)

Mina Aganagic, Jaemo Park, Costin Popescu, John Schwarz, Section 6 of Dual D-Brane Actions, Nucl. Phys. B496 (1997) 215-230 (arXiv:hep-th/9702133)

Neil Lambert, Constantinos Papageorgakis, Maximilian Schmidt-Sommerfeld, M5-Branes, D4-Branes and Quantum 5D super-Yang-Mills, JHEP 1101:083 (2011) (arXiv:1012.2882)

Edward Witten, Fivebranes and Knots (arXiv:1101.3216)
Reduction of black M2s and black M5s
The differential geometry of the double dimensional reduction of the M2-brane- and M5-brane-charges was maybe first clearly written out in:
For their black brane-reductions see:
Reduction of M-Waves and MK6s