---
This page contains a detailed introduction to basic topology. Starting from scratch (required background is just a basic concept of sets), and amplifying motivation from analysis, it first develops standard point-set topology (topological spaces). In passing, some basics of category theory make an informal appearance, used to transparently summarize some conceptually important aspects of the theory, such as initial and final topologies and the reflection into Hausdorff and sober topological spaces. We close with discussion of the basics of topological manifolds and differentiable manifolds, hence of differential topology, laying the foundations for differential geometry.
main page: Introduction to Topology
this chapter: Introduction to Topology 1 – Point-set topology
next chapter: Introduction to Topology 2 – Basic Homotopy Theory
For introduction to more general and abstract homotopy theory see instead at Introduction to Homotopy Theory.
---
Point-set Topology
The idea of topology is to study "spaces" with "continuous functions" between them. Specifically one considers functions between sets (whence "point-set topology", see below) such that there is a concept for what it means that these functions depend continuously on their arguments, in that their values do not "jump". Such a concept of continuity is familiar from analysis on metric spaces, (recalled below) but the definition in topology generalizes this analytic concept and renders it more foundational, generalizing the concept of metric spaces to that of topological spaces. (def. below).
Hence, topology is the study of the category whose objects are topological spaces, and whose morphisms are continuous functions (see also remark below). This category is much more flexible than that of metric spaces, for example it admits the construction of arbitrary quotients and intersections of spaces. Accordingly, topology underlies or informs many and diverse areas of mathematics, such as functional analysis, operator algebra, manifold/scheme theory, hence algebraic geometry and differential geometry, and the study of topological groups, topological vector spaces, local rings, etc. Not the least, it gives rise to the field of homotopy theory, where one considers also continuous deformations of continuous functions themselves ("homotopies"). Topology itself has many branches, such as low-dimensional topology or topological domain theory.
A popular imagery for the concept of a continuous function is provided by deformations of elastic physical bodies, which may be deformed by stretching them without tearing. The canonical illustration is a continuous bijective function from the torus to the surface of a coffee mug, which maps half of the torus to the handle of the coffee mug, and continuously deforms parts of the other half in order to form the actual cup. Since the inverse function to this function is itself continuous, the torus and the coffee mug, both regarded as topological spaces, are "the same" for the purposes of topology; one says they are homeomorphic.
On the other hand, there is no homeomorphism from the torus to, for instance, the sphere, signifying that these represent two topologically distinct spaces. Part of topology is concerned with studying homeomorphism-invariants of topological spaces ("topological properties") which allow to detect by means of algebraic manipulations whether two topological spaces are homeomorphic (or more generally homotopy equivalent) or not. This is called algebraic topology. A basic algebraic invariant is the fundamental group of a topological space (discussed below), which measures how many ways there are to wind loops inside a topological space.
Beware the popular imagery of "rubber-sheet geometry", which only captures part of the full scope of topology, in that it invokes spaces that locally still look like metric spaces (called topological manifolds, see below). But the concept of topological spaces is a good bit more general. Notably, finite topological spaces are either discrete or very much unlike metric spaces (example below); the former play a role in categorical logic. Also, in geometry, exotic topological spaces frequently arise when forming non-free quotients. In order to gauge just how many of such "exotic" examples of topological spaces beyond locally metric spaces one wishes to admit in the theory, extra "separation axioms" are imposed on topological spaces (see below), and the flavour of topology as a field depends on this choice.
Among the separation axioms, the Hausdorff space axiom is the most popular (see below). But the weaker axiom of sobriety (see below) stands out, because on the one hand it is the weakest axiom that is still naturally satisfied in applications to algebraic geometry (schemes are sober) and computer science (Vickers 89), and on the other, it fully realizes the strong roots that topology has in formal logic: sober topological spaces are entirely characterized by the union-, intersection- and inclusion-relations (logical conjunction, disjunction and implication) among their open subsets (propositions). This leads to a natural and fruitful generalization of topology to more general "purely logic-determined spaces", called locales, and in yet more generality, toposes and higher toposes. While the latter are beyond the scope of this introduction, their rich theory and relation to the foundations of mathematics and geometry provide an outlook on the relevance of the basic ideas of topology.
In this first part we discuss the foundations of the concept of "sets equipped with topology" (topological spaces) and of continuous functions between them.
Metric spaces
The concept of continuity was first made precise in analysis, in terms of epsilontic analysis on metric spaces, recalled as def. below. Then it was realized that this has a more elegant formulation in terms of the more general concept of open sets, this is prop. below. Adopting the latter as the definition leads to a more abstract concept of "continuous space", this is the concept of topological spaces, def. below.
Here we briefly recall the relevant basic concepts from analysis, as a motivation for various definitions in topology. The reader who either already recalls these concepts in analysis or is content with ignoring the motivation coming from analysis should skip right away to the section Topological spaces.
A key source of metric spaces are normed vector spaces:
Examples of normed vector spaces (def. ) and hence, via prop. , of metric spaces include the following:
Continuity
The following is now the fairly obvious definition of continuity for functions between metric spaces.
On the other hand, a step function is continuous everywhere except at the finite number of points at which it changes its value, see example below.
We now reformulate the analytic concept of continuity from def. in terms of the simple but important concept of open sets:
The following picture shows a point , some open balls containing it, and two of its neighbourhoods :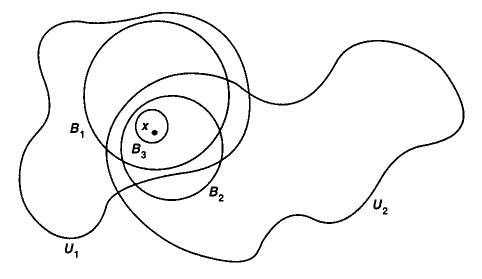 graphics grabbed from Munkres 75
We may now rephrase the analytic definition of continuity entirely in terms of open subsets (def. ):
Compactness
A key application of metric spaces in analysis is that they allow a formalization of what it means for an infinite sequence of elements in the metric space (def. below) to converge to a limit of a sequence (def. below). Of particular interest are therefore those metric spaces for which each sequence has a converging subsequence: the sequentially compact metric spaces (def. ).
We now briefly recall these concepts from analysis. Then, in the above spirit, we reformulate their epsilontic definition in terms of open subsets. This gives a useful definition that generalizes to topological spaces, the compact topological spaces discussed further below.
Finally recall the concept of compactness of metric spaces via epsilontic analysis:
The key fact to translate this epsilontic definition of compactness to a concept that makes sense for general topological spaces (below) is the following:
The proof of prop. is most conveniently formulated with some of the terminology of topology in hand, which we introduce now. Therefore we postpone the proof to below.
In summary prop. and prop. show that the purely combinatorial and in particular non-epsilontic concept of open subsets captures a substantial part of the nature of metric spaces in analysis. This motivates to reverse the logic and consider more general "spaces" which are only characterized by what counts as their open subsets. These are the topological spaces which we turn to now in def. (or, more generally, these are the "locales", which we briefly consider below in remark ).
Topological spaces
Due to prop. we should pay attention to open subsets in metric spaces. It turns out that the following closure property, which follow directly from the definitions, is at the heart of the concept:
Proposition motivates the following generalized definition, which abstracts away from the concept of metric space just its system of open subsets:
In view of example below one generalizes the terminology from def. as follows:
Before we look at first examples below, here is some common further terminology regarding topological spaces:
There is an evident partial ordering on the set of topologies that a given set may carry:
With any kind of structure on sets, it is of interest how to "generate" such structures from a small amount of data:
Often it is convenient to define topologies by defining some (sub-)basis as in def. . Examples are the the metric topology below, example , the binary product topology in def. below, and the compact-open topology on mapping spaces below in def. . To make use of this, we need to recognize sets of open subsets that serve as the basis for some topology:
Examples
We discuss here some basic examples of topological spaces (def. ), to get a feeling for the scope of the concept. But topological spaces are ubiquituous in mathematics, so that there are many more examples and many more classes of examples than could be listed. As we further develop the theory below, we encounter more examples, and more classes of examples. Below in Universal constructions we discuss a very general construction principle of new topological space from given ones.
First of all, our motivating example from above now reads as follows:
While the example of metric space topologies (example ) is the motivating example for the concept of topological spaces, it is important to notice that the concept of topological spaces is considerably more general, as some of the following examples show.
The following simplistic example of a (metric) topological space is important for the theory (for instance in prop. ):
We now consider basic construction principles of new topological spaces from given ones:
Below in Universal constructions we will recognize these as simple special cases of a general construction principle.
The following examples illustrate how all these ingredients and construction principles may be combined.
The following example examines in more detail below in example , after we have introduced the concept of homeomorphisms below.
The following important class of topological spaces form the foundation of algebraic geometry:
More generally:
Closed subsets
The complements of open subsets in a topological space are called closed subsets (def. below). This simple definition indeed captures the concept of closure in the analytic sense of convergence of sequences (prop. below). Of particular interest for the theory of topological spaces in the discussion of separation axioms below are those closed subsets which are "irreducible" (def. below). These happen to be equivalently the "frame homomorphisms" (def. ) to the frame of opens of the point (prop. below).
Often it is useful to reformulate def. of closed subsets as follows:
The terminology "closed" subspace for complements of opens is justified by the following statement, which is a further example of how the combinatorial concept of open subsets captures key phenomena in analysis:
Often one considers closed subsets inside a closed subspace. The following is immediate, but useful.
A special role in the theory is played by the "irreducible" closed subspaces:
Often it is useful to re-express the condition of irreducibility of closed subspaces in terms of complementary open subsets:
We consider yet another equivalent characterization of irreducible closed subsets, prop. below, which will be needed in the discussion of the separation axioms further below. Stating this requires the following concept of "frame" homomorphism, the natural kind of homomorphisms between topological spaces if we were to forget the underlying set of points of a topological space, and only remember the set with its operations induced by taking finite intersections and arbitrary unions:
For the following recall from example the point topological space .
See also (Johnstone 82, II 1.3).
Continuous functions
With the concept of topological spaces in hand (def. ) it is now immediate to formally implement in abstract generality the statement of prop. :
We may equivalently state this in terms of closed subsets:
Before looking at first examples of continuous functions below we consider now an informal remark on the resulting global structure, the "category of topological spaces", remark below. This is a language that serves to make transparent key phenomena in topology which we encounter further below, such as the Tn-reflection (remark below), and the universal constructions.
Examples
We discuss here some basic examples of continuous functions (def. ) between topological spaces (def. ) to get a feeling for the nature of the concept. But as with topological spaces themselves, continuous functions between them are ubiquitous in mathematics, and no list will exhaust all classes of examples. Below in the section Universal constructions we discuss a general principle that serves to produce examples of continuous functions with prescribed "universal properties".
Beware, in general a continuous function itself (as opposed to its pre-image function) neither preserves open subsets, nor closed subsets, as the following examples show:
Those continuous functions that do happen to preserve open or closed subsets get a special name:
Below in prop. we find a large supply of closed maps.
Sometimes it is useful to recognize quotient topological space projections via saturated subsets (essentially another term for pre-images of underlying sets):
Observe that:
We record the following technical lemma about saturated subspaces, which we will need below to prove prop. .
Homeomorphisms
With the objects (topological spaces) and the morphisms (continuous functions) of the category Top thus defined (remark ), we obtain the concept of "sameness" in topology. To make this precise, one says that a morphism
in a category is an isomorphism if there exists a morphism going the other way around
which is an inverse in the sense that both its compositions with yield an identity morphism:
Since such is unique if it exists, one often writes "" for this inverse morphism.
But beware that not every continuous function which is bijective on underlying sets is a homeomorphism. While an inverse function will exists on the level of functions of sets, this inverse may fail to be continuous:
Below in example we discuss a practical criterion under which continuous bijections are homeomorphisms after all. But immediate from the definitions is the following characterization:
Now we consider some actual examples of homeomorphisms:
While mostly the interest in a given homeomorphism is in it being non-obvious from the definitions, many homeomorphisms that appear in practice exhibit "obvious re-identifications" for which it is of interest to leave them consistently implicit:
The following are a sequence of examples all of the form that an abstractly constructed topological space is homeomorphic to a certain subspace of a Euclidean space. These examples are going to be useful in further developments below, for example in the proof below of the Heine-Borel theorem (prop. ).
Important examples of pairs of spaces that are not homeomorphic include the following:
The proofs of theorem are not elementary, in contrast to how obvious the statement seems to be intuitively. One approach is to use tools from algebraic topology: One assigns topological invariants to topological spaces, notably classes in ordinary cohomology or in topological K-theory), quantities that are invariant under homeomorphism, and then shows that these classes coincide for and for precisely only if .
One indication that topological invariance of dimension is not an elementary consequence of the axioms of topological spaces is that a related "intuitively obvious" statement is in fact false: One might think that there is no surjective continuous function if . But there are: these are called the Peano curves.
Separation axioms
The plain definition of topological space (above) happens to admit examples where distinct points or distinct subsets of the underlying set appear as more-or-less unseparable as seen by the topology on that set.
The extreme class of examples of topological spaces in which the open subsets do not distinguish distinct underlying points, or in fact any distinct subsets, are the codiscrete spaces (example ). This does occur in practice:
Here are some less extreme examples:
In many applications one wants to exclude at least some such exotic examples of topological spaces from the discussion and instead concentrate on those examples for which the topology recognizes the separation of distinct points, or of more general disjoint subsets. The relevant conditions to be imposed on top of the plain axioms of a topological space are hence known as separation axioms which we discuss in the following.
These axioms are all of the form of saying that two subsets (of certain kinds) in the topological space are 'separated' from each other in one sense if they are 'separated' in a (generally) weaker sense. For example the weakest axiom (called ) demands that if two points are distinct as elements of the underlying set of points, then there exists at least one open subset that contains one but not the other.
In this fashion one may impose a hierarchy of stronger axioms. For example demanding that given two distinct points, then each of them is contained in some open subset not containing the other () or that such a pair of open subsets around two distinct points may in addition be chosen to be disjoint (). Below in Tn-spaces we discuss the following hierarchy:
The condition, , also called the Hausdorff condition is the most common among all separation axioms. Historically this axiom was originally taken as part of the definition of topological spaces, and it is still often (but by no means always) considered by default.
However, there are respectable areas of mathematics that involve topological spaces where the Hausdorff axiom fails, but a weaker axiom is still satisfied, called sobriety. This is the case notably in algebraic geometry (schemes are sober) and in computer science (Vickers 89). These sober topological spaces are singled out by the fact that they are entirely characterized by their sets of open subsets with their union and intersection structure (as in def. ) and may hence be understood independently from their underlying sets of points. This we discuss further below.
All separation axioms are satisfied by metric spaces (example , example below), from whom the concept of topological space was originally abstracted above. Hence imposing some of them may also be understood as gauging just how far one allows topological spaces to generalize away from metric spaces
spaces
There are many variants of separation axioms. The classical ones are labeled (for German "Trennungsaxiom") with or higher. These we now introduce in def. and def. .
The following is evident but important:
Separation in terms of topological closures
The conditions , and have the following equivalent formulation in terms of topological closures (def. ).
Further separation axioms
Clearly one may and does consider further variants of the separation axioms , and from def. . Here we discuss two more:
Observe that:
Hence instead of saying " is and …" one could just as well phrase the conditions and as " is and …", which would render the proof of prop. even more trivial.
The following shows that not every -space/Hausdorff space is /regular
Further separation axioms in terms of topological closures
As before we have equivalent reformulations of the further separation axioms.
The proof of prop. is the direct specialization of the following proof for prop. to the case that (using that by , which is part of the definition of , the singleton subset is indeed closed, by prop. ).
But the /normality axiom has yet another equivalent reformulation, which is of a different nature, and will be important when we discuss paracompact topological spaces below:
The following concept of Urysohn functions is another approach of thinking about separation of subsets in a topological space, not in terms of their neighbourhoods, but in terms of continuous real-valued "indicator functions" that take different values on the subsets. This perspective will be useful when we consider paracompact topological spaces below.
But the Urysohn lemma (prop. below) implies that this concept of separation is in fact equivalent to that of normality of Hausdorff spaces.
As a corollary of Urysohn's lemma we obtain yet another equivalent reformulation of the normality of topological spaces, this one now of a rather different character than the re-formulations in terms of explicit topological closures considered above:
reflection
While the topological subspace construction preserves the -property for (example ) the construction of quotient topological spaces in general does not, as shown by examples and .
Further below we will see that, generally, among all universal constructions in the category Top of all topological spaces those that are limits preserve the property, while those that are colimits in general do not.
But at least for , and there is a universal way, called reflection (prop. below), to approximate any topological space "from the left" by a topological spaces
Hence if one wishes to work within the full subcategory of the -spaces among all topological space, then the correct way to construct quotients and other colimits (see below) is to first construct them as usual quotient topological spaces (example ), and then apply the -reflection to the result.
We prove this via a concrete construction of -reflection in prop. below. But first we pause to comment on the bigger picture of the -reflection:
There are various ways to see the existence and to construct the -reflections. The following is the quickest way to see the existence, even though it leaves the actual construction rather implicit.
Here are alternative constructions of the reflections:
A more explicit construction of the Hausdorff quotient than given by prop. is rather more involved. The issue is that the relation " and are not separated by disjoint open neighbourhoods" is not transitive;
A detailed proof is spelled out in (vanMunster 14, section 4).
Sober spaces
While the original formulation of the separation axioms from def. and def. clearly does follow some kind of pattern, its equivalent reformulation in terms of closure conditions in prop. , prop. , prop , prop. and prop. suggests rather different patterns. Therefore it is worthwhile to also consider separation-like axioms that are not among the original list.
In particular, the alternative characterization of the -condition in prop. immediately suggests the following strengthening, different from the -condition (see example below):
By prop. and prop. we have the implications on the right of the following diagram:
But there there is no implication betwee and sobriety:
That the intersection is not empty follows from prop. . That neither class is contained in the other is shown by the following counter-examples:
Finally, sobriety is indeed strictly weaker that Hausdorffness:
Frames of opens
What makes the concept of sober topological spaces special is that for them the concept of continuous functions may be expressed entirely in terms of the relations between their open subsets, disregarding the underlying set of points of which these opens are in fact subsets.
Recall from example that for every continuous function the pre-image function is a frame homomorphism (def. ).
For sober topological spaces the converse holds:
Sober reflection
We saw above in prop. that every -topological space for has a "best approximation from the left" by a -topological space (for : "Hausdorff reflection"). We now discuss the analogous statement for sober topological spaces.
Recall again the point topological space (example ).
In summary we have found
As before for the -reflection in remark , the statement of prop. may neatly be re-packaged:
Universal constructions
We have seen above various construction principles for topological spaces above, such as topological subspaces and topological quotient spaces. It turns out that these constructions enjoy certain "universal properties" which allow us to find continuous functions into or out of these spaces, respectively (examples , example and below).
Since this is useful for handling topological spaces (we secretly used the universal property of the quotient space construction already in the proof of prop. ), we next consider, in def. below, more general "universal constructions" of topological spaces, called limits and colimits of topological spaces (and to be distinguished from limits in topological spaces, in the sense of convergence of sequences as in def. ).
Moreover, we have seen above that the quotient space construction in general does not preserve the -separation property or sobriety property of topological spaces, while the topological subspace construction does. The same turns out to be true for the more general "colimiting" and "limiting" universal constructions. But we have also seen that we may universally "reflect" any topological space to becomes a -space or sober space. The remaining question then is whether this reflection breaks the desired universal property. We discuss that this is not the case, that instead the universal construction in all topological spaces followed by these reflections gives the correct universal constructions in -separated and sober topological spaces, respectively (remark below).
After these general considerations, we finally discuss a list of examples of universal constructions in topological spaces.
To motivate the following generalizations, first observe the universal properties enjoyed by the basic construction principles of topological spaces from above
This kind of example we now generalize.
Limits and colimits
We consider now the general definition of free diagrams of topological spaces (def. below), their cones and co-cones (def. ) as well as limiting cones and colimiting cocones (def. below).
Then we use these concepts to see generally (remark below) why limits (such as product spaces and subspaces) of -spaces and of sober spaces are again or sober, respectively, and to see that the correct colimits (such as disjoint union spaces and quotient spaces) of - or sober spaces are instead the -reflection (prop. ) or sober reflection (prop. ), respectively, of these colimit constructions performed in the context of unconstrained topological spaces.
Here is a list of basic and important examples of free diagrams
We now briefly mention the names and comment on the general nature of the limits and colimits over the free diagrams from the list of examples above. Further below we discuss examples in more detail.